By Gintautas Dumcius, Managing Editor
August 4, 2021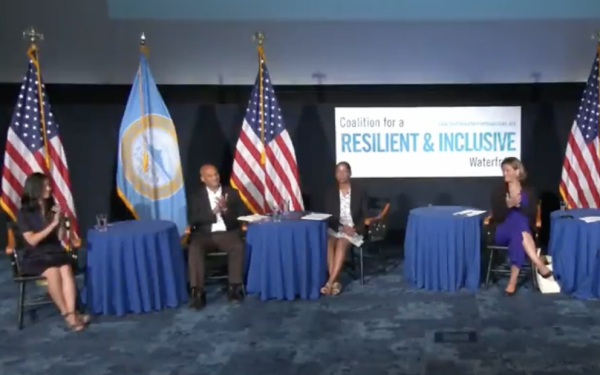 Boston's eastern boundary is nearly all waterfront, from the mouth of the Neponset River between Dorchester and Quincy, to the Belle Isle Marsh by Logan International Airport.
But getting to those spaces isn't easy, even for mayoral candidates who recalled how inaccessible it could be and how much potential there is for improvement.
Their comments came at a forum last Thursday at the New England Aquarium put together by a coalition of nonprofit groups focused on the waterfront that included the Port Norfolk Civic Association and Fields Corner Main Streets, among others.
Shirley Leung, columnist and associate editor at the Boston Globe, and Alberto Vasallo III, president and CEO of El Mundo Boston, served as moderators.
Asked to grade the waterfront, from the harbor to the rivers, the four candidates who attended offered a mix of remarks.
John Barros, who grew up in Roxbury, gave it a "C" for connectivity to the rest of the city and neighborhoods like his, while noting it gets an "A+" for how it has been cleaned up since the 1980s.
Barros recalled that as a young man growing up in the city, there were areas he went to where he felt he was trespassing. "We've got to break down those invisible walls," he said.
Andrea Campbell, the District 4 councillor, said she was directing her letter grade of "C" to city leadership on the waterfront, while Michelle Wu said "needs improvement."
Annissa Essaibi George, who taught at East Boston High School, quipped that letter grades are her speciality. She said the waterfront's still-untapped potential merits an "A+." But, she added, "we continue to fail every single day we have not created opportunities" for young people to dip their toes into the water or for older residents to climb into a kayak."
Acting Mayor Kim Janey was unable to attend the forum due to a recent death in her family, according to her campaign. The candidates who attended were also asked about where on the waterfront they like to take their children.
Campbell, a Mattapan resident, cited the Neponset Greenway trail, while Essaibi George, a Dorchester resident, said McConnell Park, where her sons, who are in the Dorchester Little League, play against the backdrop of Savin Hill Bay.
Wu, a Roslindale resident, pointed to Piers Park in East Boston, because of its views of the city skyline. She also gave a shout-out to Castle Island in South Boston, where she takes her children to get hot dogs and shakes.
For Barros, it is UMass Boston's campus on Dorchester Bay. "It's big, it's majestic," he said.
The candidates weighed in on what they would like to see. Essaibi George reiterated that she wants to see more children learn how to swim on the waterfront, while Wu answered with inner-harbor transit options.
Barros pitched for more things for people to do on Thompson Island while calling Georges Island one of his favorites in Boston Harbor. "The islands could be our classrooms," he said.
Campbell called for more restaurants and music close to the water, noting that Baltimore has a number of options for people. "We can do way better than Baltimore," she said.