By State House News Service
May 13, 2021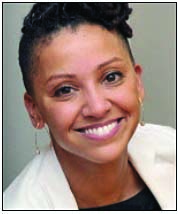 Former City of Boston Cabinet member Dr. Karilyn Crockett has joined the Greater Boston Chamber of Commerce as a research and program consultant. In her new role, Crockett will be tasked with expanding the business organization's work to address wealth gaps, racial and economic inequality, and barriers to opportunity, particularly in transportation, housing, education, and climate change.
Before joining the chamber, she spent four years as director of economic policy and research and director of small business development for the city of Boston. In June 2020, former Mayor Martin Walsh appointed Crockett to serve as the city's first-ever chief of equity, a new Cabinet-level position that she left in March.
"I'm honored to join Jim Rooney and the Chamber team to develop solutions to the pervasive inequities and disparities that limit the shared prosperity of our region," Crockett said in a statement. "We stand together in a vital moment of renewal and reimagining – renewing our collective commitment to an economic future rooted in social, economic, and racial equity."
While she consults for the Chamber, Crockett will continue to serve as a professor of urban history, public policy, and planning at the Massachusetts Institute of Technology.