By Daniel Sheehan, Reporter Staff
April 5, 2021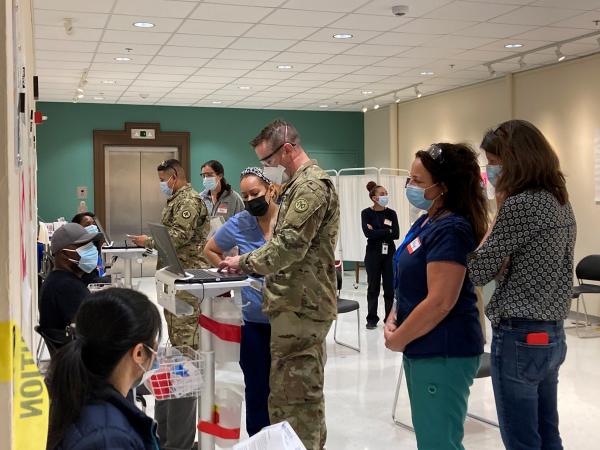 The Strand Theatre opened as a vaccination clinic this morning as part of an ongoing partnership between Uphams Corner Health Center (UCHC) and Brigham and Women's Hospital intended to provide Covid-19 vaccines to some of the hardest-hit communities in Dorchester.
The historic Columbia Road theater, which has served as a walk-up Covid testing site since January, is now open for vaccinations for eligible residents by appointment on weekdays, with plans to eventually accept walk-in patients at a future date once the operation ramps up.
In an interview with the Reporter, Uphams Corner Health Center CEO Jay Trivedi explained how expanding that testing-focused collaboration with Brigham's Brookside Community Health Center to include vaccinations was a "no brainer."
"Knowing that the vaccine was going to be in high demand and hard to get, we started conversations with them in parallel," Trivedi said. "So, when we as a federally qualified health center were given additional access through the federal government to the vaccine, we wanted to expand our current operation."
Staff had been administering Covid vaccines at the main health center at 415 Columbia Rd. in recent months to the most at-risk patients who qualified by age or with preexisting conditions. Now, the new Strand clinic will help to ramp up the rate of those vaccinations, said Trivedi, from an average of 100 per day to as many as 350 per day— hopefully averaging roughly 1,200 per week.
"The main reason to find another location was due to social distancing restraints at current location...it became natural to continue that collaboration [with Brookside] and expand at the Strand which already had some infrastructure established."
Trivedi added that the aim of the new clinic is to "keep it local" and focus primarily on those whom the center already serves, pointing out how while other clinics at Russell Auditorium, Florian Hall, and the Reggie Lewis Center have proved successful, nothing to date had been available in the 02125 zip code.
"The priority is our immediate neighborhoods, and to be clear it's not a mass vaccination site, it's specifically for our patients and our community members," he said.
Uphams Corner is home to sizeable Black, Cape Verdean, Latino, and other communities of color, which have oftentimes been shown to be more vulnerable to the virus as a result of health and economic disparities. The Strand site will offer translation services in Spanish, Portuguese/Cape Verdean Creole, Haitian Creole, and Vietnamese. Support will also be provided by the Massachusetts National Guard as part of Task Force Raptor.
For more information and to sign up for an appointment, call the health center at 617-287-8000 or visit uphamscornerhealthcenter.org.