By Bill Forry, Editor
January 13, 2021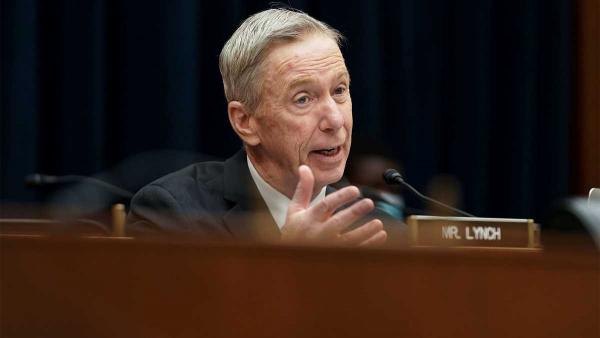 Congressman Stephen Lynch has "significant concerns" about security around the US Capitol ahead of next week's planned inauguration, which is a potential target of domestic terror groups threatening armed resistance in Washington, D.C., and other cities beginning this weekend.
Lynch was briefed on the security threats— and the planned federal response—on Monday night.
"I am concerned about the situation at the Capitol," Lynch told the Reporter on Tuesday. "There are significant concerns regarding what might take place."
Analysts who briefed Lynch told him that "four extremist groups were calling for an armed presence at the Capitol beginning on Jan. 16 surrounding the Capitol, and the White House as well, to prevent Trump from being removed, and then surrounding the Supreme Court to prevent the justices from taking any legal action that might be necessary." One of the groups named, he said, is called "Come and Take It," an affiliate of the Proud Boys, a violent, white supremacist organization.
In addition to a large contingent of Capitol Police, Lynch said, he has been told by the Sergeant at Arms that there are about 850 National Guard troops— heavily armed— now protecting the Capitol complex where President-elect Joe Biden and Vice-President-elect Kamala Harris will be sworn in next Wednesday at noon.
"They think they'll have 4,000 security [personnel] on ground in total, so I think we would be able to conduct [the inauguration]. It will be limited seating. We are not allowed guests and there is assigned seating."
When he was last in Washington last Friday, Lynch saw workers erecting "global fencing"— 8-foot-high sections topped by razor wire— in a wide perimeter around the Capitol.
Lynch said that he and his staff were unharmed and relatively safe throughout the course of last Wednesday's assault on the Capitol complex. He was not in the House Chamber when rioters poured into the building around 2 p.m. He had begun his day doing a television interview in the Russell Office Building, which houses US Senators, and was cut off from reaching the House side of the complex by mounting waves of protestors spreading out around the edges of Capitol Hill.
At first, he said, they were boisterous and menacing, but not yet violent. That changed after Donald Trump's incendiary speech near the White House.
"When Trump made his remarks, he incited the crowd to go up and confront the House and Senate. That's when it really hit the fan," said Lynch. "I was blocked by the crowd that was between myself at Russell building and I was advised by Capitol Police to shelter at my apartment and I sort of hunkered down."
Lynch, who lives just a block-and-a-half from the Russell building, watched in disbelief as the protest turned into a riot, with rabid Trump supporters assaulting police officers.
"The Capitol police have us on a warning system and were texting us repeatedly throughout about the building. There was a breach in the Cannon Building. Pipe bombs were found. We had a rolling awareness of the danger to everyone and, then, of course the shelter-in-place alert came."
Lynch says he was one of first to arrive back in the Capitol after it was cleared. "There were a couple of hundred FBI and ATF officers, some heavily armed and with combat gear in the Capitol on the second floor near Statuary Hall. They found me a safe spot to operate from. I was prevented from entering the Speaker's Lobby. It was a crime scene; that's where the woman [later identified as Ashli Babbitt, a rioter] was shot."
"You could still taste the pepper spray," said Lynch. "The insurrectionists had tramped through the Capitol and it had been ransacked, basically. A lot of broken windows, damaged furniture."
After the Electoral College votes were certified later the next morning, Lynch joined his colleagues in the state delegation, who have unanimously called for the removal of the president by enforcement of Article 25, impeachment, or resignation.
"We certainly have the votes for impeachment," Lynch said. "There'll be a vote tonight [Tuesday] on the Raskin resolution that directs Vice President [Mike Pence] to exercise the 25th amendment," which would mean ousting Trump via a vote by Pence and a majority of the cabinet.
"The vice president hasn't been very communicative with us," Lynch said. "He was not returning phone calls, but through his staff we were able to ascertain that he did not welcome the idea of using the 25th Amendment. His opinion can always change and he can have time to think more deeply about what happened. I hope he has a change of heart and mind and will live up to his oath that he took to support and defend the Constitution.
"If that doesn't come to pass, we have articles of impeachment against the president for supporting an insurrection against the country," said Lynch. "It also cites the president for trying to compel the Secretary of State of Georgia to try and change the vote.
"I think we have the votes and the Senate is going to have to decide whether they think it's important enough for them to consider it," he said. "Majority Leader McConnell said that it didn't work with the Senate calendar. We reminded him that the attacks on our Capitol didn't work with our calendar, either."
Lynch told the Reporter that the FBI office in Boston and the State Police know of no specific threat to the State House in Boston despite a national bulletin issued Monday by the FBI that warned of planned armed protests in 50 states.
On Monday evening, a Massachusetts State Police spokesman issued a statement that said, in part: "To date, we are aware of no specific threat to government venues or to public safety generally in Massachusetts. We are in contact with the FBI and continue to share information through our Fusion Center with federal, state, and local partners."