By Katie Pedersen, Reporter Correspondent
April 28, 2021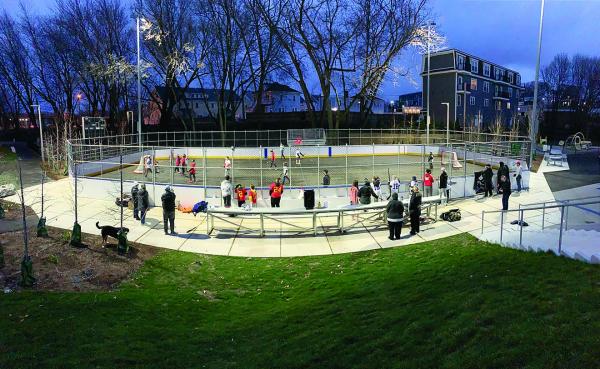 Dorchester Street Hockey, under the leadership of high school senior Jack Studley, is gearing up for a busy weekend. On Sunday, May 2nd, the league will meet at Garvey Park for a full day of friendly competition.
Starting at 12 p.m. with a 5th and 6th grade semi-final match, the league will play all its playoff and championship games on the same day!. Playoff games for both the 5th and 6th grade and 3rd and 4th grade divisions will wrap up by 4 PM, at which point Studley will make an important announcement about the future of the league.
Following the announcement, there will be a series of small-sided events and a coaches' game. At 5 p.m., the 5th and 6th grade championship will begin. At 6 p.m., the 5th season of Dorchester Street Hockey will wrap up with the 3rd and 4th grade championship game.
The Boston Police Hockey Club has stepped up to man the grill as a fundraiser for Dorchester Street Hockey, while Franklin Sports has donated street hockey nets, shooting targets, and sticks for a raffle. Dorchester Street Hockey will also be auctioning off branded hats and quarter zips and Boston Police Department Hockey merchandise.
For a schedule of the day's events and information about Dorchester Street Hockey, visit Dorchester Street Hockey powered by LeagueLineup.com.