By Gintautas Dumcius, Managing Editor
January 28, 2022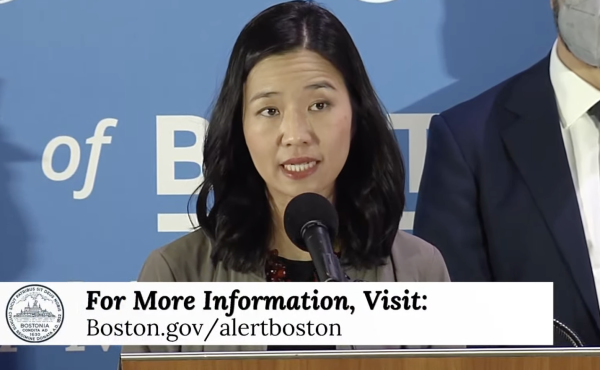 Mayor Michelle Wu on Friday declared a snow emergency and said a parking ban is set to go into effect at 9 p.m.
Between 18 to 24 inches are expected to hit the region, and winds could reach up to 50 miles per hour. The snow is expected to start early Saturday morning and could keep going into Sunday.
"This has the potential to be a historic storm," Wu said at a City Hall press conference, urging people to stay home if they are able.
Boston Public Schools are expected to open on Monday, though Wu indicated that could change after the storm hits.
"I am very relieved this is happening on a Saturday," Wu said during the press conference, noting that it means teachers, schoolkids and others can be home and stay inside.
The snow emergency means vehicles parked on major roads and arteries will be towed. It was unclear when the snow emergency would be lifted. City officials said that depends on a variety of factors, including how fast the snow can be cleared.
For residents who deploy space savers after digging out a spot, they have 48 hours to use the space savers for 48 hours after the end of the snow emergency. Space savers are allowed across Boston, with the exception of the South End.
Pick-up of trash and recycling will occur on schedule Friday and then restart on Monday.
City officials reminded property owners they must clear snow and ice from sidewalks and curb ramps within three hours after snowfall, or three hours after sunrise if the snowfall tapers off overnight.