By Seth Daniel, Reporter Correspondent
January 26, 2022
Dorchester swept the Bantam AA, Bantam AAA, Mite AA, and Pee Wee A divisions in the 28th Annual Mayor's Cup Hockey Tournament that played out at the end of December.
The tournament began on Dec. 18 and the finals were held on Jan. 2 at Boston University's Walter Brown Arena. A total of 128 games were played citywide in 15 divisions at 7 rinks with 1,235 youth hockey players from 7 separate programs.

The Bantam AAA squad: From left, Tommy Misilo, Max Ryan, Colin Rogers, Desi Sweeney, Kevin Fitzgerald, Timmy Ryan, and James McFarland. Goalie Will Ferraro (with trophy) and Connor Gillis (injured, red sweatshirt) are also pictured. Coaches are Michael Hampton, Patrick Hampton, Nolan O'Sullivan, and Madelyn Murphy.
For the Bantam AAA team, Coach Peter O'Sullivan said he and his team, which had just won its district titles, were excited to win the Mayor's Cup.
"We're very fortunate to have a very deep division," he said. "We're excited for what we've done and had a good season so far. The goal for the season is always to win the Mayor's Cup, win districts, win states, and take the Valley League championship."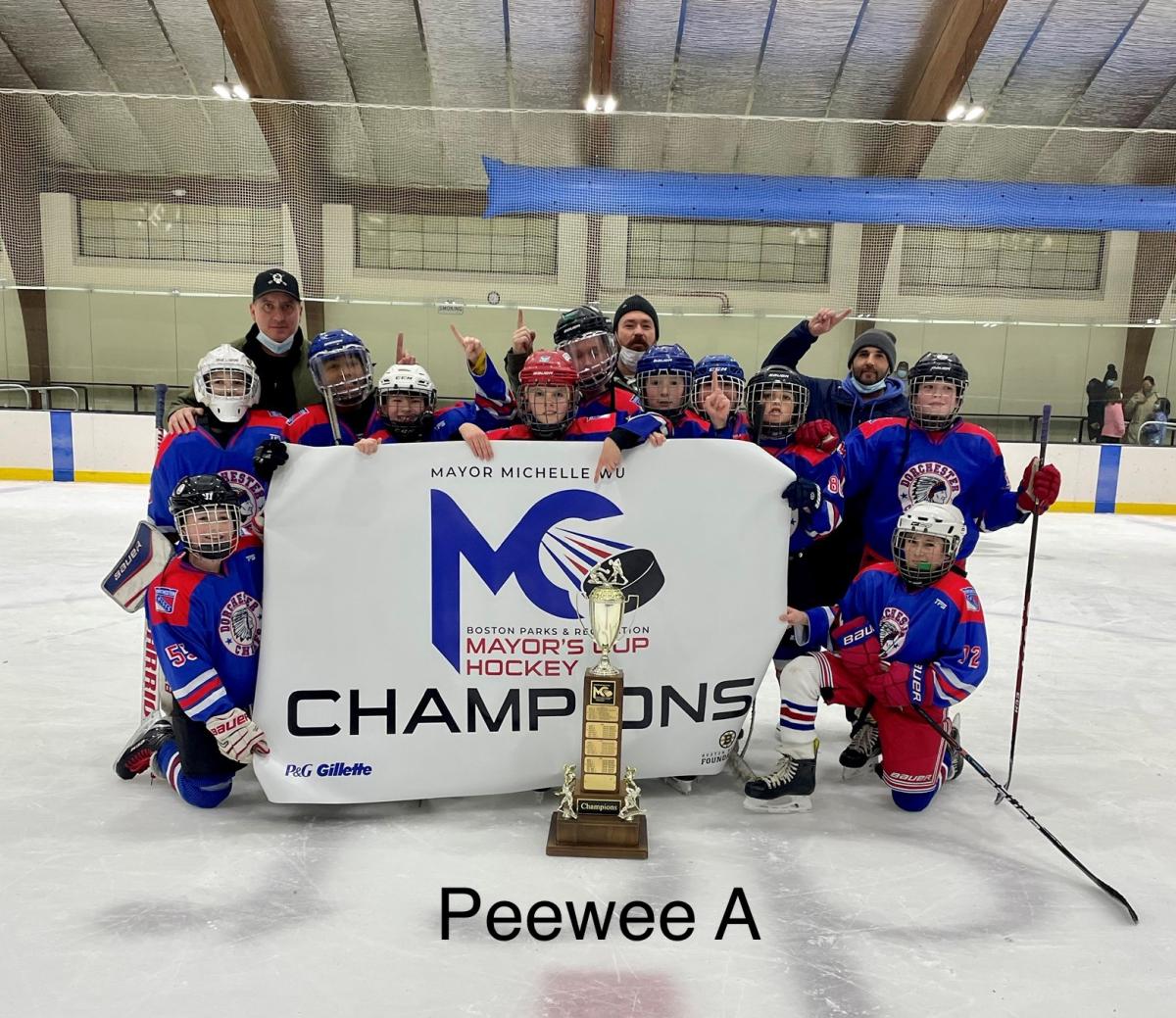 From left, Michael Hughes (kneeling), Martin Kelly, Terriean Lakes, Eamonn McIntyre, Frankie Armstrong, Sean Thompson, Michael Cloherty, Sam Cunningham, Cullen Ahern, Tommy Lucas, and Henry Donaghey (kneeling). Coaches Greg Kelly, Tommy Lucas, and Adam Cunningham.
Coach Adam Cunningham said his Pee Wee A team was special not because of any great skill levels, but because of the grit and fight within the team.
"We don't have any Wayne Gretzkys, but they don't give up," he said. "The kids wanted it and put in the effort and never gave up. It was all about the hearts of these kids on the ice."

The Mites AA team: From left at bottom: Mia Myers, Lucas Higgins, Goalie Colin Holt, Charlie Hobin, and Bridget McLaughlin; back, Coaches Liam O'Donnell and Christina Myers, players Audrey O'Donnell, Evelyn Baker, Garrett Spence-Fenton, Christopher Stock, Gianni Sacilito, Michael Walsh, Conor Devlin, and Coach Mike Devlin. Not pictured: Thomas Coughlin.
Coach Mike Devlin said his Mite AA team took a hard path to the Mayor's Cup, losing to Charlestown early and finding themselves in the Loser's Bracket. "They had to fight their way back," he said. "They ended up beating a tough Parkway team and the faced Charlestown again and beat them for the Cup. It was a good battle."