By Gintautas Dumcius, Managing Editor
November 23, 2022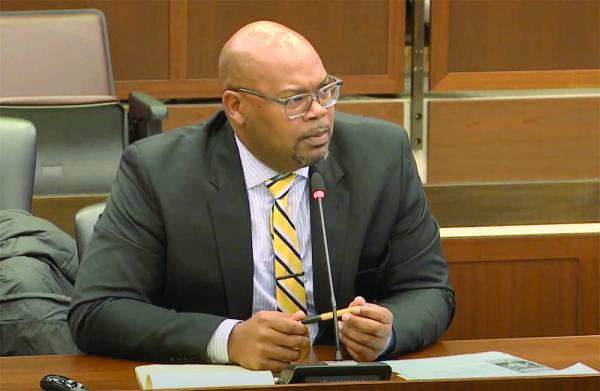 Under questioning from city councillors, Boston Public Schools officials who oversee athletics programs say they've seen improvement in areas they superintend but acknowledge there is more to do.
Councillors Erin Murphy, Ruthzee Louijeune, and Liz Breadon, noting that Massachusetts overall spends an average of $161 per pupil on athletic programs while Boston spends $76 per pupil, co-sponsored a hearing order to consider effects stemming from the fact that out of the school system's $1.3 billion budget, BPS spent $3.9 million, or less than a third of one percent of the overall number, on athletics in 2020,
Murphy, a former teacher, said her former colleagues, as well as coaches and volunteer parents, often feel abandoned and ignored, and too many middle school and high school children don't have access to athletic programs. "Our young kids are at risk," she said. "Especially coming out of Covid, we need to have these types of opportunities for our kids."
Noting that her daughter plays softball and plans to try out for basketball, Julia Mejia, chair of the council's education committee, said that "it's important that we get this right, not just for her but for her classmates and children across Boston."
The school's athletics office serves 2,472 students and has offers 17 sports across the fall, winter and spring seasons, officials noted.
"We are, I would say, in a good space but as you have all pointed out there is opportunity to do more," Avery Esdaile, the school district's senior director of athletics, told councillors at a Nov. 17 City Hall hearing on the topic. A "consistent definition" is needed for what that looks like, he added.
Esdaile has a staff of seven, including an equipment manager, an administrative secretary, a scheduler, an assistant athletic director who deals with operations and facilities, and a program manager.
Jillian Kelton, the district's chief of student support, testified alongside Esdaile. She acknowledged that the staffing is not adequate, and they are increasing the budget by $500,000 to hire additional staff, including some focused on ensuring the district is in compliance with various rules and regulations. Compliance duties now are spread among several people. She also noted that federal funding has also been used to purchase new equipment.
When councillors asked about the state of school gym facilities, Samuel DePina, BPS deputy superintendent of operations, said the district has a maintenance program for all gyms, and before the start of every season they assess their condition, from fixing shot clocks to repairing and resurfacing floors.
"Are they the best gyms ever in the world compared to other cities? Probably not," he said.
Councillor Brian Worrell, who represents Dorchester and Mattapan, asked DePina about the gym at the Mildred Avenue K-8 School, noting that he and others had been pushing for its floors to be fixed. Some floors take more time based on damage, DePina said in response.
Murphy also raised the issue of transportation, saying students have written her letters saying that sometimes they haven't had a bus to get to a sports game, and they needed to get a ride or walk to the facility, or they were left to head home in the dark. "This is heartbreaking," Murphy said. "This is fixable."
Esdaile said the district is doing a better job this year and called 2021 an "anomaly. The number of trips we've had, the number of games, the things we struggled with last year, we didn't feel this year," he said. "Things were covered. Kids were able to get buses to their games and home from their games."
Murphy said the letters she referenced were recently written. She also gets calls, she said, about transportation issues, which came up during an earlier meeting between school officials and leaders of faith-based communities, according to Kelton.
One of the biggest issues for Boston Public Schools is that they deal with 68 different school start times even as they provide busing for parochial and charter school students. "That's incredibly difficult to navigate," she said.
Murphy noted that parochial and charter school students have a legal right to busing. "We're not giving them something extra." Replied Kelton: "I'm just pointing it out as an obstacle for us."
She added that she coached girls soccer at Tech Boston Academy in Dorchester, so she is aware of transportation problems. School officials are "working hard" to correct them, she said. "This fall has been much better than the past."
DePina, who was in the audience during the hearing and then joined the panel, said last year's transportation problems were due to driver shortages and the pandemic. "We're working to have more drivers and more routes covered."
Mejia suggested hiring someone to handle bus coordination for all athletics, and raised the possibility of the city purchasing a separate bus fleet that isn't tied into 68 bell times. "Something for you to consider," she said.
As the BPS panel's testimony drew to a close, Esdaile reiterated that the athletics program is in a "better spot" than when he started nine years ago. He previously worked for Wellesley College's athletics department.
"We want to be better; we want to be the best that we can be," he said.