By Gintautas Dumcius, Managing Editor
January 20, 2023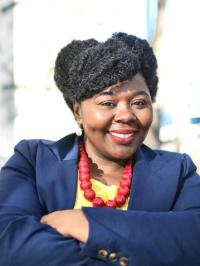 Latoya Gayle, a St. Mark's area resident who works for a nonprofit focused on early education and childcare issues, is considering a run for the City Council's District 3 seat.
"I'm being encouraged to throw my hat in the ring," Gayle, who is senior director of advocacy for Neighborhood Villages, told the Reporter on Thursday.
She declined to say who has approached her about running for the seat, currently held by Frank Baker, but she hopes to make a decision by February. This year's cycle features a municipal election, with the 13 City Council seats — nine district seats and four at-large — on the ballot.
Her top issues are development and the intersection of Massachusetts Avenue and Melnea Cass Boulevard, also known as "Mass and Cass," which has become a gathering place for homeless individuals amid an opioid epidemic and a housing crisis.
"I would love to be a part of the solution to make those things better for our community, for Boston in general, and especially for my children and their peers," Gayle said.
Gayle lived in the South End, near Mass and Cass, before moving to Dorchester eight years ago. She lives with her four children in a house just a short walk from the Shawmut MBTA Station. One child is in elementary school, another is one year old, and another is a high school junior while the oldest is a sophomore in college.
Gayle said she hasn't taken a formal stance on a proposal for a 74-unit complex next to the subway station, but overall development is spurring her to consider a City Council run.
The proposal for 150 Centre St., which would replace the Fitzpatrick Bros. autobody shop and designate 61 percent of units for affordable housing, is under review by the Boston Planning and Development Agency (BPDA) as some neighbors have argued the project is too big for the area. Supporters say it will bring needed housing, located next to public transit.
"I think developers have too much power in neighborhoods," Gayle said.
She added: "I hope that the process of community engagement and feedback for the 150 Centre St. project is robust and thorough and that the voice and desires of the community and abutters prevail."
Baker, who was first elected in 2012 after an open race to replace longtime councillor Maureen Feeney, has said he has not yet formally decided whether he is seeking another term. Another candidate, pastor and teacher Joel Richards, announced in December that he would seek the seat and has already started fundraising.
Before the city's redistricting process, which takes place every ten years and features the redrawing of the nine City Council districts, Gayle lived in District 4, represented by Councillor Brian Worrell. But her home precinct was flipped into District 3 after a new map was approved 9 to 4, with Baker one of the "no" votes, in November. Baker is backing a lawsuit in federal court to overturn the map.
"I don't have any beef with Frank Baker. I know some people do, I don't," Gayle said. "My motivation is not to take out Frank Baker. My community, my neighborhood and my children, especially, are my motivation."
Before her current role at Neighborhood Villages, Gayle served as executive director of Boston School Finder, a website aimed at helping parents select where to send their children.