By
Anonymous (not verified)
December 31, 2013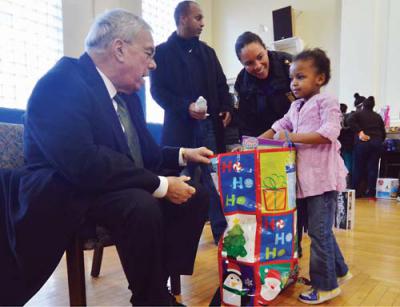 Christmas Eve on Bowdoin Street, 2013.: Photo by Chris Lovett
Although I cannot officially pick a favorite neighborhood in Boston, I can say that Dorchester has always had a special place in my heart.
Not only is it a great place to live, but it's also a great place to work, to own a business, to shop, to eat, and maybe most importantly, it's a great place to raise a family - as my daughter Susan and her husband Billy have done.
A lot has changed in the neighborhood over the past twenty years, but it just takes a quick ride down Dorchester Ave. to see all of the great things that the neighborhood has to offer. But the people of Dorchester have always been the community's best asset.
This neighborhood has always been the open place where many new to this country come, open small shops, and transform the neighborhood landscape around them. In the small and local business community, we have six fantastic Main Streets programs in Dorchester (Fields Corner, St. Marks Area, Bowdoin-Geneva, Uphams Corner, Greater Grove Hall, and Four Corners) all of which have been helping to develop and strengthen the small business community in the neighborhood and improving storefronts making the business districts destinations for local shopping.
The Dorchester Ave. re-design was a significant investment in revitalizing one of the main corridors running South to North through the City. In addition to taking you through a complete redesign of four major squares (Peabody Square, Hero Square, Glover's Corner, and Andrew Square), Dot Ave. links you to many of the neighborhood's hidden gems. Ronan Park and Town Field both offer free Wi-Fi connections, giving residents more reason to enjoy their other amenities.
And speaking of parks, the Rev. Dr. Bill Loesch Park, Hemenway Park, King Street Park, Roberts Playground, Doherty/Gibson Playground, Martin Tot Lot and many others have all been improved, making them better and safer, providing that needed getaway for neighborhood families without their ever having to actually leave the neighborhood.
Back in 2004, I put together a task force to develop a vision for the Strand Theater. Based on the ideas and discussions from that group, the City of Boston has continued to make investments in revitalizing both the theater itself and the surrounding community. Financial investment has brought in great returns. In addition to the some of my favorite yearly events, like the Boo Bash, we now have a resident theater company in place at the Strand. That's something I'm particularly proud to have been involved with.
One thing that I'm really proud of is the work that we've been able to do in the Bowdoin-Geneva section of the neighborhood. The intervention that was done on Hendry Street marked an important turning point for the relationship between the City and the residents of the neighborhood and I think with the establishment of the Bowdoin-Geneva Neighborhood Response Team, we are certainly poised to continue the good work and improve the environment of the entire neighborhood.
After a few hundred ribbon cuttings, dozens of Mother's Day Coffee Hours, scores of visits to schools and senior centers, and two decades worth of Dorchester Day parades, I can honestly say that Dorchester is a wonderful place. There's a special place in my heart for Dorchester and I'm happy to have been able to work closely with our many neighbors who make it such a great place.
– Mayor Thomas Menino