By
Anonymous (not verified)
December 10, 2014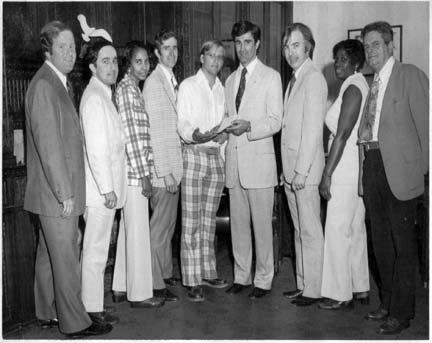 Codman Square Health Center Incorporated: April 1975 ceremony. Pictured, l-r, State Rep. W. Paul White, City Councillor Larry DiCara, Doris Brown, John MacNeil, Bill Walczak, Secretary of State Paul Guzzi, Craig Wall, Mona Scantlebury, and Charles Murphy.
My memory is a bit hazy as to the specifics of the meeting.
I remember that it was held at the Second Church in Dorchester (the big white church on Washington Street) in Codman Square, and that it was the regular (Dec. 10, 1974) meeting of the Codman Square Civic Association, the precursor to the Codman Square Neighborhood Council.
The president, Marge Muldoon of Kenwood Street, had invited four representatives of Dorchester health centers and the Carney Hospital to speak on how they were able to start their health centers, which were still a new concept in providing health care in underserved communities. The first of these in the entire country was the Columbia Point Health Center, which, with the entire movement, will celebrate its 50th anniversary next year.
As I remember, at this Codman Square meeting were Ethel Lenox, a founder of the Uphams Corner Health Center, Jean Hunt, a founder of Neponset Health Center, Pat Edraos, a founder of the Bowdoin Street Health Center, and Sr. Kathleen Natwin, head of ambulatory care at the Carney Hospital, which supported the development of a number of health centers. They constituted a panel and spoke for a few minutes about how their centers had started, the health needs they addressed, and how the centers made a difference in their communities.
The notion of starting one in Codman Square was very attractive to those in attendance. The neighborhood was in a terrible state at the time, and getting worse. Much of the commercial district was vacant and/or decrepit. The residential housing in the area was nearly valueless. Large single-family houses were selling for a few thousand dollars, and many houses went vacant for lack of a buyer at any price.
Houses were burning down daily west of Washington Street. Crime was on the upswing and residents' faith in their own community was suffering. The private physicians who provided primary care services in the area were moving out or not taking new patients, so new residents used hospital emergency rooms for basic primary care. And to make matters worse, the city's Public Library department had announced that it was moving out of the historic Codman Square branch library (now the Great Hall) to a new location on Welles Avenue.
So starting a health center seemed like a great idea. Not only would it be a way to show that positive things could happen in Codman Square, it would also meet a great health care need, and maybe utilize a building which, the community believed, would be burned down if it became vacant.
Marge Muldoon appointed a group of volunteers at the end of the presentation to form an ad hoc group, the Codman Square Health Committee, that would investigate whether a health center was feasible, and, if so, to create one. She asked the person with the biggest mouth that evening, that is, the person who asked the most questions about starting a health center, to chair the committee, and that person was me, despite my age (I was 20).
So a group of about 20 people from all the neighborhoods around Codman Square started meeting in January. After a few months, we determined that a health center was indeed feasible and in April 1975, we incorporated as a way of getting the job done.
Those who formed the Codman Square Health Center 40 years ago had no idea of the challenges that lay ahead. It took almost five years of effort and struggles with the Kevin White administration and state health agencies before the doors opened in 1979 with three employees inside. The consensus at the time was that the new facility would not survive. A bad call. That small group of citizen volunteers opened a health center that now has 100,000 square feet of space, several hundred employees, a budget of nearly $25 million, and more than 22,000 patients who make 100,000 visits per year.
The center has helped to create two charter schools (the Edward Kennedy Health Careers Academy and Codman Academy), the HealthWorks Fitness Center, Latin Academy Housing, and has started programs ranging from public health to community organizing to a farmers' market, the BOLD teens, an adult education center, nutrition programs, and many more community efforts. It has greatly enhanced the idea that a health center can become a hub for community change.
In my speech at the dedication of the Center on Nov. 3, 1979, I congratulated these citizen volunteers who stuck together through five years of working, agonizing, and fighting with various officials and bureaucracies to win the day. I quoted, fittingly, Alexis DeToqueville, the early 19th century French observer of American culture:
"These Americans are peculiar people. If, in a local community, a citizen becomes aware of a human need that is not being met, he thereupon discusses the situation with his neighbors. Suddenly, a committee comes into existence. The committee thereupon begins to operate on behalf of the need and a new community function is established. It is like watching a miracle."
The lesson of the Codman Square Health Center is that even in the face of overwhelming odds, a few people can make a difference, and that it's worth the effort.
Bill Walczak is president of the Lewis Family and Grand Circle foundations.