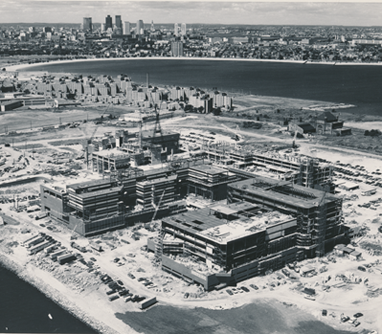 UMass Boston under construction: An aerial view of the UMass Boston campus under construction. The old Columbia Point housing development is visible just to the north of the campus. Image courtesy UMass Boston
Forty years ago this week, a remarkable thing happened in Dorchester: The University of Massachusetts Boston—the only public university in Greater Boston —moved from Park Square downtown to its new campus on Columbia Point. The first day of classes was January 28, 1974.
We've been thinking a lot lately about the history of UMass Boston as we approach the 50th anniversary of our founding. On June 16, 1964 the Massachusetts legislature passed a bill sponsored by the late representative Robert H. Quinn of Dorchester and his colleagues in the House and Senate to establish an urban branch of UMass. Two days later, Governor Endicott Peabody signed the legislation.
In a 2010 opinion piece published in these pages, Mr. Quinn described how, as a state legislator, he was invited every fall to visit UMass Amherst for the homecoming football game and to see the benefits of state funding for higher education. He always wondered how many of the kids in Boston had the opportunity to attend UMass Amherst. He was correct to wonder; in 1963, the UMass president, citing the economic need for an educated workforce, informed the legislature that at least 1,200 qualified Boston high school graduates were denied admission to the Amherst campus that year for lack of space.
Mr. Quinn believed the commonwealth needed a place in Boston "where kids would trip over the opportunity for higher education." From there, the idea of UMass Boston was born. All these years later, UMass Boston remains a place where opportunities and inspiration abound.
Although the creation of UMass Boston helped to broaden access to quality higher education, it naturally also raised questions: How would the university expand to meet the growing higher education needs of the city? Where would it locate permanently?
The latter question was answered with construction of our current campus. Students, faculty, and staff who were here on opening day still remember the wonder of the sparkling new campus, yet there was also a certain sense of uncertainty — students trying to find their way around a new campus; the nearby community trying to understand how their new neighbor might impact them. Though I wasn't there, I'd like to think it was a day of anticipatory excitement as we began a new chapter of the UMass Boston journey.
In retrospect, relocating the university from its humble Park Square origins to Columbia Point – as debated as it was at the time – brought with it substantial benefits for all concerned. The move reclaimed a beautiful waterfront peninsula for active use after years of it being a municipal dump, and UMass Boston was soon joined by a group of valued neighbors: the John F. Kennedy Presidential Library and Museum, the Massachusetts Archives and Commonwealth Museum, and, most recently, the Edward M. Kennedy Institute for the United States Senate, now under construction. The former Columbia Point housing development has been transformed into Harbor Point, and jobs and businesses have expanded on the Point.
One of the founding principles of our university was that it should "stand with the city." To us, that means standing with our neighbors. Our faculty and resources are available to assist neighborhood groups and organizations in our surrounding communities. In Dorchester alone, UMass Boston has 100 community partnerships, ranging from working with Upham's Corner Main Streets on a business plan to helping teachers at the Mather Elementary School educate Vietnamese students and work with their community.
Standing with our neighbors also means that we want to continually engage those closest to us in ongoing dialogue. Last fall we met with more than 30 Dorchester civic groups and neighboring organizations and institutions to update them on our recent activities and our vision for the future. And we listened carefully to what they had to say.
Equally important are the efforts to transform our campus, making it a more inviting and accessible place for our neighbors to visit and enjoy. The recent renovation of the Clark Athletic Center will be followed by completion of a new section of the HarborWalk. New bike paths, pedestrian walkways, better connections with Mt. Vernon Street and additional green space will make our campus an even more attractive destination.
In so many ways our university shares the values of our host Dorchester community – an unwavering belief that all need access to opportunity and that all deserve the support they need to succeed. By working together, we can turn those opportunities into realities.
During our first 40 years we have together made this community stronger. I'm looking forward to laying the foundation for our next 40 years at home together in Dorchester.
J. Keith Motley is chancellor of the University of Massachusetts Boston.