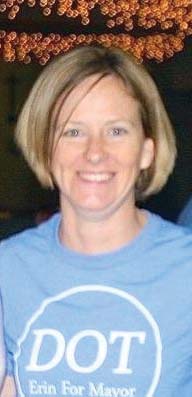 Erin MurphyA Dorchester woman who has been a huge booster of recovery services for the city's men, women, and youth will be honored at tonight's Gavin Foundation Anniversary Dinner by the South Boston-based organization that helps people living with substance abuse.
John McGahan, the president and CEO of the Gavin Foundation, said that Murphy personifies the generosity and spirit of the foundation. A former mayor of Dorchester, Murphy has run the marathon to raise funds for the organization and is constantly working to bolster local efforts to combat alcohol and drug addiction.
"Erin is such a solid ambassador for treatment in general and not just for the Gavin House," said McGahan. "She's forever on social media trying to break through the stigma associated with addiction. We find that to be inspiring and commendable."
The Gavin House was founded in Southie in the early 1960s as a recovery home for adult men battling addiction. Today, it serves more than 100 men from across the state each year. Through the years, it has grown to include other homes and programs in communities outside of Southie, including Dorchester and Charlestown.
"The Gavin House has been around longer than state funding. It was people helping people back in 1962 and that's what we try to highlight with this award," said McGahan.
Tonight's dinner will be held at the IBEW Hall at 6:30. The ticket price ($50) will help defray the cost of the event itself, which is free to men and women who are currently being served by the Gavin Foundation. "The evening is really about celebrating recovery and coming together," said McGahan.
It is also a moment to reflect on the importance of stepping up our own efforts – as a Commonwealth – to stem the deadly effects of opioid addiction in this state. This week, our mayor, Martin Walsh, joined Gov. Charlie Baker in calling for swift legislative action to expand our arsenal in this fight. One key provision in the governor's proposal would give doctors the authority to hospitalize addicts against their will for up to 72 hours, as they can currently do for people who pose a danger to themselves or others due to mental illness.
This common-sense measure is informed in part by experts like John McGahan who have seen too many tragedies occur when overdose victims are released from medical care, only to fatally overdose, sometimes within the same day.
"The epidemic of opioid addiction sweeping through our cities and towns shows no mercy and we consider the initiatives in this bill to be significant tools in combating this unprecedented crisis. We need bold action to bend the trend in opioid deaths," Baker and Walsh wrote in a letter to lawmakers this week.
We agree. Four people die every day in Massachusetts from opioid overdose – many of them young people from this community. As John McGahan and other experts will tell you, addicts who are in the middle of an overdose crisis are in no position to make rational decisions on their own. Giving doctors on the front lines the power to intervene when there is an obvious danger is a necessity in this mounting crisis and we urge the Legislature to act.
Tickets for tonight's Gavin Foundation anniversary dinner will be available at the door. For more information call 857-496-0052, Ext. 806, or see gavinfoundation.org