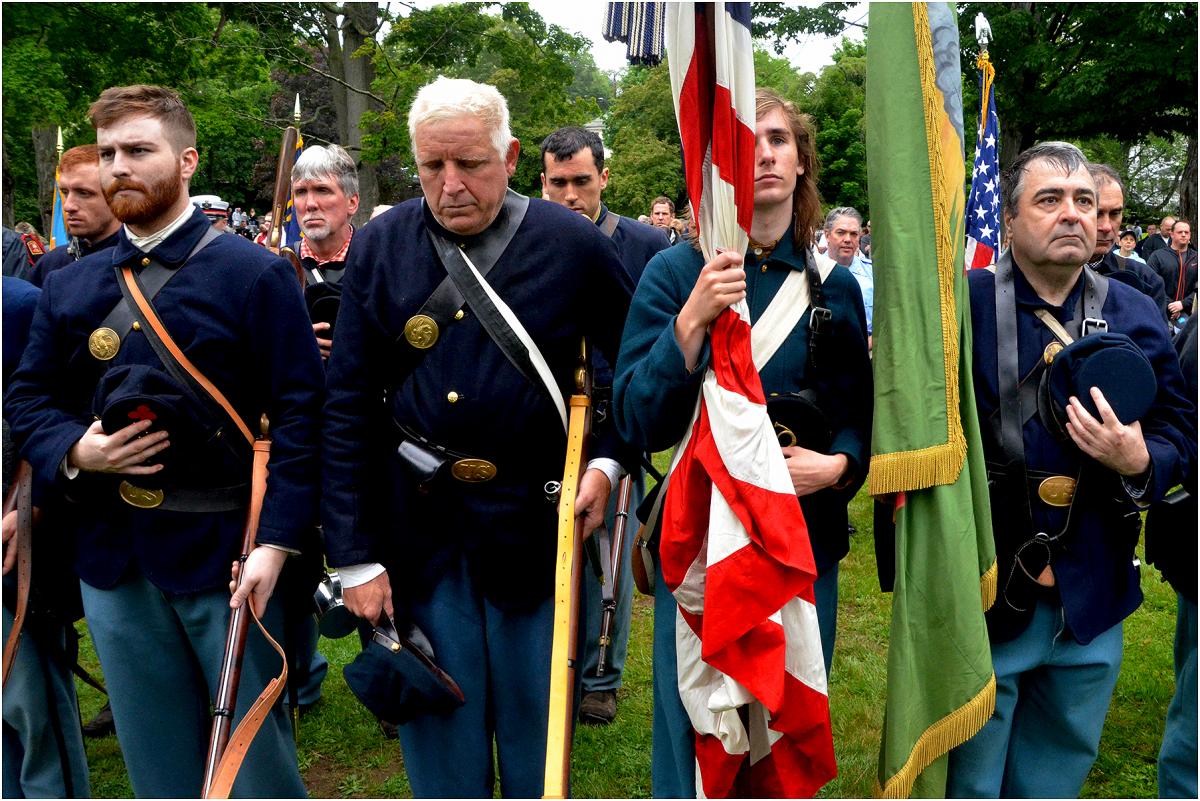 Memorial Day 2018 in Cedar Grove Cemetery. Chris Lovett photo
Monday's observation of Memorial Day in Dorchester's Cedar Grove Cemetery will be, as always, a poignant event, drenched in tradition and history. For many of us, Cedar Grove, already the resting place of many of our relatives and neighbors, will be the last stop. It's a place of reflection and natural beauty. Even the rattle of the Mattapan trolley is a welcome companion.
On Monday, the focus will be on those men and women whose journey to Cedar Grove was prompted by service to their nation in time of war. Dorchester people have been coming to this place since a time when they were not Bostonians. Cedar Grove was laid out in 1867-68, in the immediate aftermath of the convulsive tragedy that we now call the Civil War. Dorchester was then a small agricultural town, independent of the bulging metropolis to our north. (Town leaders signed off on annexation to Boston in 1870.)
The ceremony begins with a salute to those lost on the killing fields of Maryland and Virginia and Georgia— and to those who made it home and later joined their fallen comrades in the Grand Army of the Republic plot. Above their moss-covered, limestone markers looms the granite likeness of one of their officers, Capt. Benjamin Stone, who was mortally wounded fighting at the Second Battle of Bull Run near Manassas, Virginia. Stone was one of about 100 Dorchester citizen-soldiers who lost their lives in the conflict to reunite the union and halt the march of southern slavers.
Close to the Adams Street gate, a small group of World War II veterans will gather around markers that recall Dorchester's sacrifice in the war to defeat 20th-century fascism. A larger ceremony will be staged 100 feet away in an open space where scores of veterans from more recent conflicts will stand or sit. This year they will listen as Brig. Gen. John J. Driscoll, commander of the Massachusetts Army National Guard, delivers the keynote address.
It's a special day— in a special place. If you haven't yet experienced it, you should.
– Bill Forry