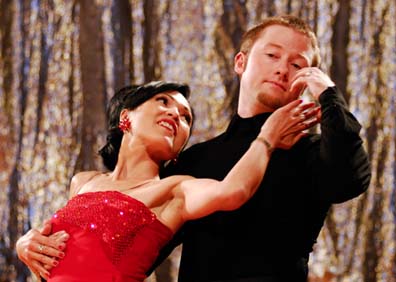 Dancing with the Stars of Boston: Mary Truong of Carney Hospital twirled her way to a win last year. Photo by Mike Ritter/ritterbin.comABC's "Dancing with the Stars" gets more and more popular each season. Ditto the Dorchester-based "Dancing with the Stars of Boston," happening tonight (June 18) at Boston College High. Fields Corner Main Street (FCMS) hopes to raise between 25 and 30 grand this evening at what has become their biggest fund-raiser of the year in support of their revitalization efforts including the storefront initiative, improvements, anti-litter and youth hiring campaigns.
This third annual competition will be held for the first time at the Bulger Arts Center at BC High. The stage and lights there will better showcase the elegant pairs of dancers.
FCMS is happy to again partner with Arthur Murray Dance Studios of Boston, Natick and Randolph, whose instructors choreographed, taught the dances to competitors, and will serve as their professional dance partners. This year "Stars"-gazers will see the samba, fox-trot, waltz, Viennese Waltz, meringue jam, salsa and tango.
Media partner WCVB Channel 5 not only has provided the hosts (anchors David Brown and Karen Holmes Ward) and a celebrity competitor (weatherwoman JC Monahan), but has also been promoting the event.
But Dorchester residents and businesses are the ones providing most of the support. Fields Corner-based Dutch Maid Bakery is confecting the desserts for the reception. Dot photographer Mike Ritter is shooting both still and video versions of the glamorous evening. For the third year, centerpieces and other flower displays are being donated by Cedar Grove Gardens, Coleen's Flower Shop and Lopez the Florist.
The Dorchester Symphony Orchestra Chamber Players under the direction of founder William Shoucair will play classical music during the reception, but not during the competition. Pairs have rehearsed to very specific recordings.
Former American Idol finalist and Dot resident Ayla Brown will make a special appearance along with Mayor Menino.
Joining the 2009 Miss Massachusetts USA Alison Cronin among the celebrity dancers will be three Dot residents: Andrea Baptiste, from Healthworks at Codman Square and The Biggest Loser contestant; Vinnie Than, Vietnamese Business Association; and former "Mayor of Dorchester" Craig Galvin, who has emceed all the previous FCMS Dotini events.
Last year's "Dancing with the Stars of Boston" winner, Mary Truong, (Caritas Carney Hospital) returns to join Jonathan Soroff (Improper Bostonian), Alberto Vasallo III (El Mundo), and JoJo White (Boston Celtics) on the judges panel. Their role, however, is mostly to offer commentary.
The winner is determined by audience vote. Each attendee gets one vote, but additional votes can be bought. You do the math. The dancer whose friends have the deepest pockets will cha-cha home with the title. After all, the evening is finance as well as footwork. More details at fieldscorner.org.