By
Staff
[2]
March 5, 2010
Relatives of Ramone Daley gathered at Boston Police headquarters today to announce a $10,000 reward for information on whoever gunned down the young Floyd Street resident as he left for work early on the morning of Feb. 27.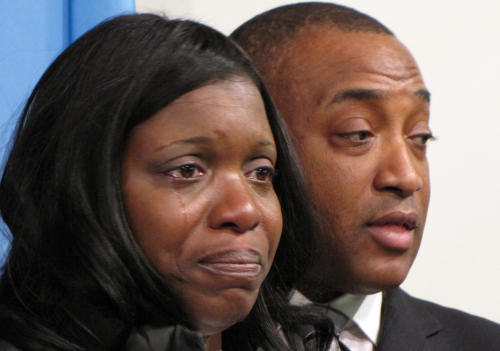 Jeannette Binton: Daley's cousin, announcing the reward
"Ramone was loved by many and we that are left to cherish his memory want and demand justice for his murder," cousin Jeannette Binton said. "We must all work together to protect our community. The only way we can do thi is to remove the ongoing threat and prevent this from happening to another innocent person."
Daley, 22, had just left home on his way to work at Logan Airport when he was shot to death.
"Within minutes of Ramone leaving his childhood home, closing his gate and making his routine walk to the bus stop, he received gunshot wounds of which he succumbed to later that morning," Binton said.
More than a dozen family members attended the press conference, wearing T-shirts with Daley's photo on the front - and tattoos on their wrists reading "Ram1" in his honor.
Police say Daley is unique among Boston's 10 murder victims this year because he has no connection to violence or any reason to suspect somebody might want him dead.
Anyone with information can contact the anonymous tip line at 800-494-TIPS or by texting "TIPS" to CRIME.