By Gintautas Dumcius and Adam Gaffin
February 11, 2011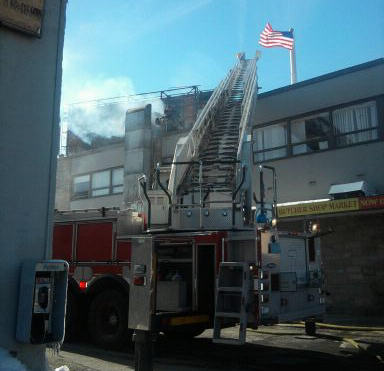 China Sky fire: Photo courtesy Judy Tuttle
Firefighters on Friday knocked down a two-alarm grease fire at the China Sky restaurant in Adams Corner. The fire erupted around 12:45 p.m. at the 520 Gallivan Blvd. restaurant.
District 8 Fire Chief Doug Smith estimated the damage to the mostly-brick building at $100,000.
Three workers were inside the restaurant at the time of the fire, and all got out safely, he said. There were no injuries.
Charles Mardirosian, a driver for Windy City, a pizza restaurant adjacent to China Sky, said he saw flames shooting out of the vent in back of China Sky.
"You could see the smoke was billowing out all over the place," he said. "You couldn't even see out here."
Judy Tuttle, an Ashmont-Adams resident, told the Reporter she was shopping at Rite Aid located in the parking lot near the restaurant, and the black smoke was so thick and heavy, it set off the fire alarms in the store.
She said she witnessed firemen use a heavy electric saw to cut away the exterior of the vent in order to put the flames out.
Smith said they were able to keep the fire confined to the restaurant, which shares the building with Cronin Real Estate and Adams Village Insurance Agency.
Reporter publisher Ed Forry contributed to this report.