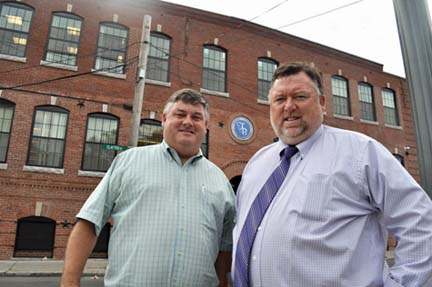 Greg and Brendan Feeney: Entrepreneurs have built a thiving utility excavation business from their base in Dorchester. Above, the brothers are shown outside their newly renovated headquarters on Clayton Street. Photo by Bill Forry
Greg and Brendan Feeney don't have to share an office on the spacious third floor of their new headquarters on Park Street. There's plenty of room here for the owners of one of the region's top utility contractors to spread out if they really wanted to.
But the Feeney brothers have been sharing space with good humor and great success since the day they started their own business back in 1987 from the back porch of Brendan's three-decker home on Elmer Rd.
The brothers, then still freshly arrived from County Sligo, Ireland, had only a few material assets in those days, including a used, 1973 Ford dump-truck and a brand new backhoe that they broke the bank to buy.
But for each man, it's turned out, the most important ingredient to mutual success has been the brother standing close by their side.
"It worked on Elmer Rd.," explains Greg. "It worked well on Bay Street [in Savin Hill] for all those years. We work well by bouncing things off one another. Why change it?"
Indeed, the "ain't broke –why fix it" posture helps explain a lot about these two Irish entrepreneurs who came to Fields Corner within a year of one another in the early 1980s. Although both men have since moved their families to suburbs south of the city, their work home has always been — and always will be— Dorchester. And so, as they eyed a new, larger building to base their now-booming enterprise, they knew that the search party would have to begin and end in their adopted neighborhood.
"It's hard to get industrial space in Boston. We could go to any suburban town and it would be a third of the price," explains Brendan. "But you stay with what you know."
Earlier this year, the Feeney Brothers Excavation Corp. moved into the building that the brothers say is their crowning achievement thus far: a renovated, three story brick building nestled in an industrial zone between Fields Corner and Clam Point. Once home to the Sturtevant Mills property that used huge grinders to make plastics, the building now houses office space, conference rooms and even a state-of-the-art training center for the Feeney Brothers 200-plus employees. The company relocated from its longtime space in Savin Hill last January (although the company maintains a three-acre yard off Bay Street for vehicle storage.)
The move and the restoration project at the Park Street building is still a work in progress. Last month, workers were on the roof installing solar panels, while in the basement others were putting the finishing touches on a employee lounge. The building is also outfitted with a gym, including fitness equipment, showers and lockers. The amenities are extra touches that the Feeney brothers say they're looking forward to sharing with their 200-plus employees, most of whom have been with the company for years.
"As far as having a work base, it's as convenient as any place and we have a lot of Dorchester employees," explains Brendan Feeney. "We've always had good people and we don't have much turn-over here."
The company specializes in making repairs and laying new gas, electric, telecommunication and water pipes throughout Massachusetts— with about 80 percent of their work focused on the gas industry.
Brendan, who arrived in Boston from their native Enniscrone, Co. Sligo in 1983, was first to cut his teeth in the Boston job market as a roofer, landscaper and, finally, with a Braintree-based contractor. Trained back home as a civil engineer, Brendan had come to America— like legions in his generation— to find work that was sorely absent in his native soil. Greg, also a graduate of Sligo's Engineering school, followed in 1985.
Both soon realized that there was a gap in the market for skilled workers who had the right equipment to tackle rigorous— but plentiful— road work jobs around the city.
"We could see even as we worked ourselves that there was this opportunity," explains Brendan. "No contractor seemed to be fully staffed with their own equipment."
The breakthrough for the Feeneys came in 1988 when they were added to the "bid list" for Boston Gas work, allowing them to compete directly for the chance to win contracts from the giant utility company.
"We worked around the clock back in the '80s," recalls Greg. The brothers incorporated their company in 1988 and haven't slowed up since. Although both brothers are too bust managing the daily operations of the outfit to get into the trenches alongside their crews, they are both still fascinated by the details of each job. And both men are like boys in a toy shop as they walk through their hangar-sized storage buildings on Sturtevant Street.
They bought the properties — located just across the street from their new offices — several years ago to store and repair huge supplies of pipes, valves and other heavy equipment, including giant, $180,000 flat-bed trucks that carry massive, pre-cut pipes to jobs across the region.
In recent years, the Feeneys have also added a new business to their entrepreneurial portfolio: restaurants. In 2009, the brothers purchased the old Donovan's restaurant in Lower Mills and transformed it into The Ledge Kitchen and Drinks. The Dot Ave. eatery and bar has quickly become one of the neighborhood's most popular dining destinations. The Feeneys also own Slate, a downtown bar and restaurant, and co-own Sweet Caroline's near Fenway Park.
Next up: The brothers will begin work this year to renovate the old Boston Auto and Electric building — adjacent to their flagship building on Park Street. The old warehouse will be used to make repairs to equipment and house parts and more offices.
Their pet project is a bit farther afield: The brothers are building a new farmhouse in their native Sligo that they expect to make a much more frequent destination for family reunions in the coming years.
Meantime, the Feeneys say they will continue to be stalwart supporters of Dorchester charities. The two have given more than $100,000 in recent years to a diverse mix of causes, from Savin Hill Little League and the Dorchester Park Association to the Rodman Ride for Kids, which directly helps the Boys and Girls Clubs of Dorchester.
"We believe in giving back," says Greg.
Brendan and Greg Feeney will be honored on Friday, Oct. 19 at the third annual Boston Irish Honors, sponsored by the Boston Irish Reporter. Other honorees include the Muse Family and U.S. Congressman Richard Neal. The luncheon event will be held at noon at the Boston Seaport Hotel. For more information on tickets, call 617-436-1222.