Alarmed by dilapidated conditions that amount to "demolition by neglect," city officials today seized control of a historic Mattapan property that has fallen into acute disrepair in recent years.
The Fowler-Clark farmhouse on Norfolk Street - which dates back to the turn of the 18th century— is one of the city's last tangible links to a now-distant agrarian past. It was designated as a historic Landmark in 2006 and has since been boarded up by city inspectors [3] worried that squatters might destroy the farmhouse and adjacent barn through vandalism or fire.
The property has remained in private hands, but has been vacant and neglected- with broken windows and out-of-control vegetation throughout the 30,000 square foot site at the corner of Hosmer Street.
Sheila Dillon, director of the city's Department of Neighborhood Development, have decided to act before it's too late. Dillon says that the city must protect the landmark from owners — who she says have essentially abandoned the property.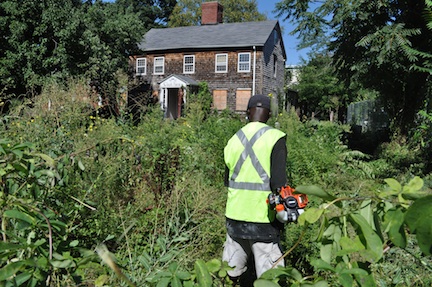 Worker clears brush on Fowler-Clark property"The action we're taking here today is the same we would take if someone was threatening it with a bulldozer," said Dillon, who indicated that the seizure was prompted by the owners' failure to pay city taxes and utility bills. Even if the owners now make those payments, Dillon said that the city intends to go to court to keep the land- which is the equivalent of six normal-sized city parcels.
City contractors armed with weed-wackers, riding lawnmowers and driving Bobcat front-end loaders swept onto the site this morning around 8 a.m. They will likely spend the whole day there clearing 10-foot stalks of weeds and grass that have consumed the fenced-in yard along Norfolk Street.