By Lauren Dezenski, Reporter Staff
May 26, 2014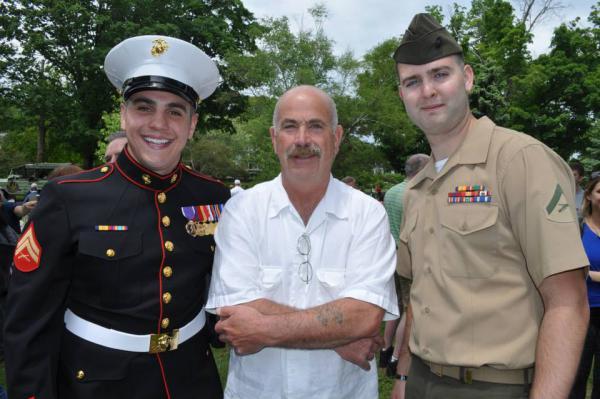 Crowd of 3,000 attended Cedar Grove observances
An estimated 3,000 people, many of them dressed in enough red, white, and blue to put Independence Day to shame, turned out on Monday to observe Memorial Day at Cedar Grove Cemetery.
The morning started overcast and chilly, with adults clutching cups of hot coffee –though a handful of holdouts stayed with iced coffee – while children zipped into jackets danced around waving American flags, waiting for the sounds and sights of the parade. The musical units, color guards, neighborhood Scout troops, and a procession of members of eight neighborhood veterans posts, a handful of whom got the honor to ride on a Duck Boat, were accompanied by pipe bands from the Boston Police and Boston Fire departments as the marchers made their way through the gates of the 145-year-old cemetery.
Watching the crowds lined along the route, Katherine Green, a retired teacher who lives on Milwood Street, said Monday's event had the best turnout she had ever seen.
Ahead of the procession, Republican gubernatorial hopeful Charlie Baker pressed palms with spectators lining Adams Street outside of the cemetery's gates and underneath a massive American flag hoisted up by two Boston Fire Department ladder trucks. Baker, a Swampscott resident, said he specifically wanted to come to Cedar Grove to pay respects because of the Civil War veterans buried there.
Other politicians, among them US Rep. Stephen F. Lynch, state Sen. Linda Dorcena Forry, and state Rep. Daniel Cullinane, looked on as veterans placed a wreath at the statue of Benjamin Stone, which marks the burial plot of the neighborhood's Civil War veterans. Captain Stone, who commanded the men, all Dorchester residents, of Company K of the 11th Massachusetts Regiment, was killed in action at the second Battle of Bull Run.
The ceremony included the firing of a volley from the 28th Massachusetts Volunteer Infantry, of Irish Brigade fame, followed by taps from the John P. McKeon Amvets Post 146.
"The red of our country's flag is made redder by your heroism," said Michael Hegarty, chairman of St. Mark's VFW Post 1758. "The blue is glorified by the service they have given for American ideals."
Congressman Lynch said that while he and his wife come to the ceremonies at Cedar Grove every year, this year was especially noteworthy because Lynch's 92-year-old father, a member of the American Legion's Old Dorchester Post 65, passed away in April. Post Chairman Robert Kane read his name during the services, as did all post chairmen to honor the memory of members who had died over the last year.
The clouds began to break as the veterans, elected officials, and others took their places both on the stage and in the crowd. As the Thomas J. Kenney School band opened the ceremony with a musical selection that included a version of "Amazing Grace" with its fair share of squeaks and an enthusiastic percussion section, the chill of the morning gave way to sunny skies and a light breeze in time for a round of speeches from elected officials and veterans.
The officer of the day, Francis Cahill of the St. Mark's Post, asked for a moment of silence in honor of Michael Kennedy and Edward Walsh, two Boston firefighters who died fighting the blaze on Beacon Street in the Back Bay on March 26.
No stranger to the annual Cedar Grove observance as an elected official, Mayor Martin J. Walsh addressed the crowd for the first time as the city's chief executive. "It's a public official's greatest honor to sit on this stage … more so this year," Walsh said. He then recognized Michael Ball and Robert Flynn, two former US Marines who have served in Afghanistan. Both men, dressed in their uniforms, also spoke to the gathering. Walsh, Congressman Lynch, and Sen. Dorcena Forry touched on elected officials' responsibility to ensure that veterans receive adequate health care, employment opportunities, and housing after serving their country in uniform.
In his speech, Lynch focused on his response to concerns at Veterans' Administration (VA) hospitals nationwide and how Massachusetts has fared. Saying he was prompted to act by calls from Boston officials, including Walsh, Dorcena Forry and City Councillor Frank Baker, Lynch referenced independent studies that he commissioned to make sure that the three VA hospitals in his district were operating effectively. Results were largely positive, he said, although the reports identified backlogs in the dermatology and mental health departments. Lynch said that hed will meet with Walsh, Dorcena Forry and others on June 5 to talk about what else they can do to help the situation.
Lynch presented flags that had flown over the US Capitol to guest speakers Ball and Flynn. "They are a shining example of what's best about Dorchester and America and we are blessed to have them in our presence," he said.
One of the men on the stage was 90-year-old Francis Murphy, a veteran of World War II who for most of the last half-century has been a key figure in organizing the Memorial Day events in Dorchester while serving as the "officer of the day" for many years. Illness had kept him from the observances of the last two years, but he is back living in Dorchester and was delighted to be asked to join in this year's ceremonies. Cahill saluted Murphy's many years of service and called upon him to address the assembly before the closing prayer was offered by Rev. Jason Makos. "I have been doing it for a number of years," said Murphy. "I was very happy to get the call to be here. I am honored to do it."
Steven Bickerton Sr., commander of the Old Dorchester Post and a Marine Corps veteran of the Vietnam era, served as this year's parade general chairman and summed up the day: "The people of Dorchester always show pride in Memorial Day. These 3,000 people could be at the beach today, but they're here" he said as the warm midday sun shone down and a breeze tickled American flags clutched in the hands of both young and old.