By Jennifer Smith, Reporter Staff
June 15, 2016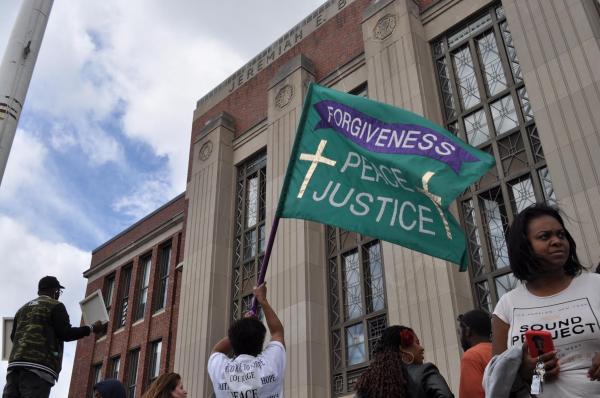 As students at the Jeremiah E. Burke High School began and ended their Monday this week, five days after 17-year-old Raekwon Brown, a junior at the school, was fatally shot less than a block away, they entered the tall brick building to greetings from men of color and departed to cheers of support from community members gathered outside.
A fire alarm rang out in the halls of the Burke last Wednesday, June 8, around 1 p.m., and students swarmed outside. Brown was gunned down outside a Washington Street pizza parlor next to the school. Bullets injured two other teenage boys and grazed a 67-year-old woman, police said.
No arrests had been made as of Wednesday, police said.
The adults standing outside the school on Monday were organized by former state representative Carlos Henriquez. "Love and peace," they chanted, applauding as students left the school. One woman waved a green flag emblazoned with the words "Forgiveness," "Peace," and Justice."
"When you live in a community where there's a lot of violence, you can become desensitized to it," Henriquez said. "You can think that that's the norm… and we wanted to counteract that, remind you that this is not the norm, and that we're gonna work against it."
Boston Police Commissioner William Evans has called for the community's aid to identify the shooter or shed light on the circumstances of the incident.
"When a 17 year old dies on the street outside of school, we should all be outraged," Evans said outside the Burke hours after the shooting. "And shame on anybody who doesn't step up to the plate and help us solve this."
"It's a sad situation where we had a student who was in class today shot a half-block from the school," Mayor Martin Walsh told reporters that same day. He added, "The community is sick and tired of what's happening in the city, with the shootings."
Several nearby schools, along with Burke, were in safe mode for the hour after the shooting, Boston Public School officials said. Trauma counselors posted at the schools the next day.
Superintendent of Schools Tommy Chang, speaking with the police commissioner and mayor last Thursday, said "the kids are going to be safe at this school," which was making resources available to restore some semblance of normalcy.
Some Burke students sought their own way to heal and give back after the tragedy. Burke is one of five Boston schools that partner with the BUILD program. The freshmen students meet during the schools days and also come together once a week to work on entrepreneurial businesses.
One of the students whose BUILD group makes customized t-shirts texted his teacher, John Bernier, saying he "would love to make some T-shirts with Raekwon's face on them and memorialize him." The administration got on board, and the students set a goal of raising $500 for Brown's family to help with funeral costs.
Shakiyah Coles and Quaneisha Joyner, 15-year-old BUILD students, sat inside Burke on Monday afternoon as their classmates streamed out, helping sell shirts featuring Brown's face.
"He was a good kid," said Joyner. "He always put a smile on everybody's face. He had a good vibe to him."
Added Coles: "He looked at all of us as, like, his little sisters and brothers. He always wanted the best for us."
On Friday, Coles proposed an online crowd-funding effort to augment their BUILD efforts. By Wednesday, people had donated more than $3,800 to the fundraising page on YouCaring.com [2].
Coles said the crowdfunding was conceived "for the Burke community, so we could give back to his mom. It isn't easy losing a kid. It hurts us 'cause we lost a friend, so I know she must be going through hell as a mother."
Brown's funeral was set for Thursday morning in Roxbury, according to the J.B. Johnson Funeral Home's website. Visitation was scheduled for 10 a.m. at the Charles Street A.M.E. Church on Warren Street, followed by an 11 a.m. funeral service. Brown's burial will be at Oaklawn Cemetery in Roslindale.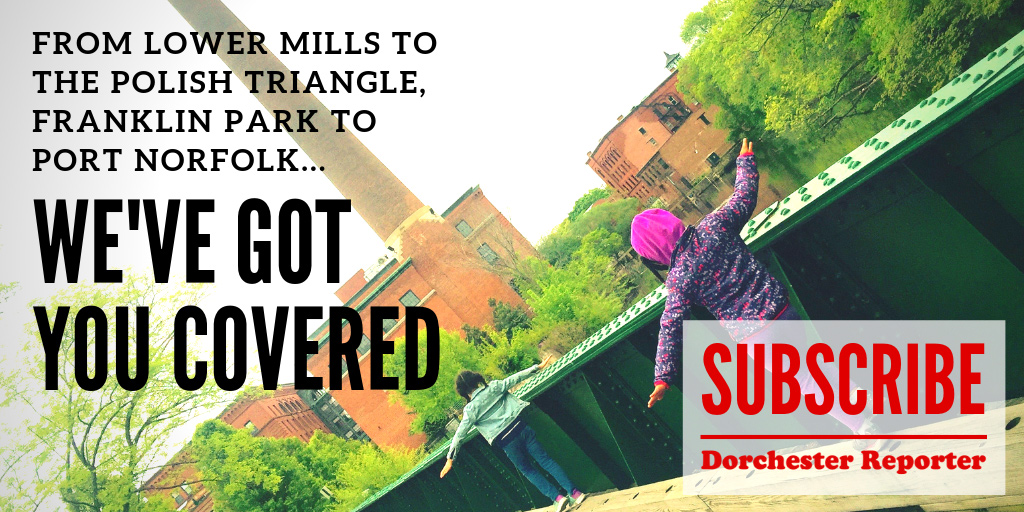 [6]