By Jennifer Smith, Reporter Staff
March 11, 2016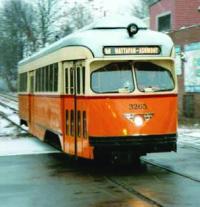 Ten local elected officials are urging the the MassDOT Fiscal and Management Control Board to approve a $3 million appropriation to fund the Mattapan trolley [2]. In a letter authored by Rep. Dan Cullinane and acquired by the Reporter, the officials fervently oppose any proposals of paving over the tracks and converting the high-speed trolley line into a shuttle bus route.
The signatories include State Sen. Linda Dorcena Forry, State Rep. Dan Cullinane, State Rep. Dan Hunt, City Council President Michelle Wu (At-Large), Boston City Councillors Tim McCarthy (District 5), Frank Baker (District 3), Andrea Campbell (District 4), Annissa Essaibi-George (At-large), Michael Flaherty (At-large), and Ayanna Pressley (At-large).
"We do not believe it to be in the best interest of the communities and residents we represent to have the trolley line converted to a shuttle bus system," they wrote, citing the historic nature of the trolley and an adverse effect on residential property values along the line should buses be implemented.
They "emphatically advocate" for keeping trolleys as the service vehicles for the line, preferably the existing Presidential Conference Cars (PCCs).
Thousands of daily MBTA riders rely on the Mattapan High Speed Trolley Line and would be underserved if the trolley were to be reconfigured, the officials wrote.
The economic fallout could be just as significant, the letter continued, as a shuttle bus system "has the potential to literally shut down the multi-million dollar economic development proposals already in the RFP process for the Mattapan MBTA Station Parking Lot parcel."
Officials cited a potential developer's statement in a Reporter article on the Mattapan lot [3]. Mathieu Zahler of Trinity Financial, one of two developers who submitted bids in response to to the Request for Proposals, said the easy access to the Mattapan high-speed trolley service next door is critical, and if the MBTA were to eliminate the trolley service, the Trinity project would not proceed.
The $3 million investment is set to come before the MBTA board next week, in the midst of a fraught conversation on the transit department's strained finances.
"We understand that the problems of operating an aging fleet in a harsh climate are real," the letter said. "We understand as we look to the future of the whole MBTA system hard choices need to be made."
But solutions exist, the officials said, and the discussion could give rise to innovative work partnerships. The trolley's historical value and the economic ripple effect of its removal make a compelling case for preserving the line and its classic carriages.