By Jennifer Smith, Reporter Staff
March 9, 2017
Mayor Martin Walsh's administration rolled out a sweeping transit report on Tuesday that reviewed ongoing projects and laid out a broad blueprint for transportation investments over the next 15 years.
Dorchester and Mattapan, having long asked for improvements to critical transportation infrastructure along neighborhood spines, stand to gain from several of the highlighted projects.
The Go Boston 2030 report, one of the planning areas under the umbrella of the Imagine Boston 2030 [2] initiative, is chiefly concerned with how Bostonians drive, ride, bike, and walk around the city.
It lays out guiding principles — equity, economic opportunity, and climate responsiveness — for transit development. Boston, officials noted, is in the midst of rapid population growth and corresponding job availabilities while also occupying an uneasy position as a seaside city looking at a potentially dramatic change to its coastline over the next few decades.
The Go Boston team touted the community-sourced priorities highlighted in the plan. Beginning with a question campaign in winter 2015, through the 4,000 voters who offered their feedback in June 2016, the city ranked the 58 transit projects accounting for a minimum of $4.6 billion for investment laid out in the report.
More than $700 million for transportation is allotted in city capital funds this year, officials said. The city has committed to a five-year investment plan to start work on upcoming projects. Some of the major initiatives will rely on private investment, and the city will encourage developers to chip in with sidewalk and roadway improvements, but many are dependent of large influxes of state and federal dollars over the course of several years.
Balancing major infrastructure expansions with smaller but widespread projects like "microHUBS" to ease transfers between modes of transportation, the plan's stated purpose is to connect the ever-growing Boston population with the jobs and amenities that are scattered throughout the municipality.
Planners believe they can fine-tune traffic flows with tools like smart traffic signals to avoid jams and the setting up of exclusive lanes for new high-speed bus routes.
A Massachusetts Avenue rapid bus was one of the top-voted ideas by community participants, with the potential to more quickly connect riders along Massachusetts Avenue from Edward Everett Square in Dorchester toward, and possibly into, Cambridge. Completing the project could take between 5 and 15 years, according to the report, with an initial design and construction price tag of $43 million.
Two rapid bus routes are proposed to connect the Longwood Medical Area with outlying neighborhoods. A single-bus transit line, again with signal priority and some exclusive lanes, would join Longwood to Columbia Point, crossing through the Dudley Street section of Roxbury and Uphams Corner.
Another top project transit officials highlighted, at an embargoed press briefing before the report was launched, is a Mattapan-to- Longwood rapid bus. Expected to cost $55 million for design and construction, this new line would involve "rail-like bus service operating where excess roadway which exists today on one of several potential corridors that will be determined in conjunction with the community."
The state Department of Conservation and Recreation (DCR) is in an ongoing design process for the William T. Morrissey Boulevard, a critical connector from Kosciuszko Circle at Columbia Point down into Neponset. The public last saw plans for the project [3], which the GoBoston 2030 plan expects will cost $17 million for design and construction, dramatically lower than most estimates, in September 2016.
Morrissey repairs and reconstruction "will correct frequent street flooding and prepare the corridor for anticipated sea level rise and storm surges," the report states, as well as enabling bike and pedestrian passage along its entire length.

A greenway path is proposed along the Fairmount Line Corridor. Go Boston 2030 image
The Fairmount Indigo Line [4] Urban Rail project comes with one one of the heftier price tags in the plan – more than $435 million across two phases. Among the other big-ticket items are $1.3 billion for Orange and Red Line service improvements and $1.6 billion for the South Station expansion. An urban rail expansion to Roslindale Square is pegged at $500 million.
For a first stage, Fairmount Line improvement would be focused on increasing the frequency and improving the payment system along the underutilized line. Wait times would ideally be reduced to every 15 to 20 minutes from 45 to 60, and officials hope to allow riders to use their Charlie Cards to transfer between the Fairmount Line and other MBTA subways and buses.
These changes could be made for around $35 million in capital improvements and $4 million per year for operations, the report states, and could be implemented in 5 to 15 years.
"We're spending a lot of time working across multiple cabinets to think about how we're supporting not just the line, but the residents who live along the Fairmount corridor," said chief of streets Chris Osgood, "and how we, in the short term, make sure that there's greater connectivity to job centers and in the long term the line itself is operating with greater frequency and it's overall a better service for the folks who live in that area."
After those 15 years, the report outlines grander ambitions for the Fairmount Line, ones that are in line with advocates' requests for more subway-like service, with 5- to 10- minute frequencies "to create Boston's sixth rapid transit line."
That shift in priority is "because working people live on that line," Walsh said. "I think it's important to take the fact that… having Hyde Park pay at a different rate than Boston is not effective, and I think that, for all intents and purposes, the Fairmount Line is an extension of the spider – meaning the Orange Line, the Red Line, the Blue Line, the Green Line – for the people that live in that neighborhood. There's no question about it."
Community members also recommended an accompanying project for the corridor – Fairmount Greenway Neighborways, a walking and biking route that would parallel the entire length of the line. The Neighborways project is considered among the "early action projects" that could get underway in the next five years, and would include "traffic calming, wider sidewalks, way-finding signs and markings, improved intersection crossings with busy streets, and green infrastructure enhancements."
Another greenway path is proposed along Columbia Road [5], connecting Joe Moakley Park to Franklin Park.
Along with traffic improvements similar to the Fairmount greenway proposal and protected bike and pedestrian paths, adding new landscaping and trees along the route would "transform this former boulevard into a vibrant green corridor."
Boston is at the beginning of a long journey to bring transportation service to residents by decreasing dependency on cars and bolstering a straining public transit infrastructure. In the next five years, the city will prioritize projects like the Columbia Road greenway, smart signaling, improving bike- and pedestrian-access, and working toward exclusive bus lanes and greater inter-city service and connections.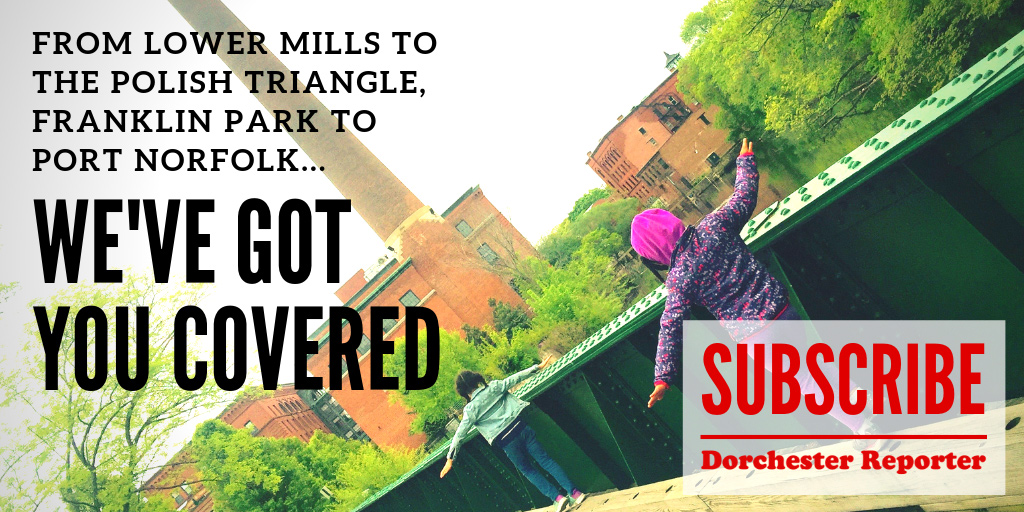 [6]