By Fred Thys, WBUR Reporter
August 10, 2017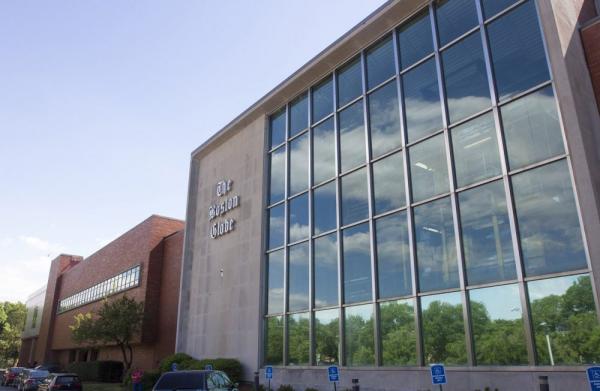 Now that the Boston Globe has moved its offices downtown and its printing presses to Taunton, its old 16-acre headquarters on Morrissey Boulevard sits nearly empty, although the New York Times is still being printed there and delivery trucks are still parking on the premises.
The Globe says it's selling the property [2], the largest commercial parcel on Morrissey Boulevard, to Nordblom, a Burlington developer, and some neighbors are watching anxiously as they await word from the buyers about what they want to do on the site.
City Councillor Annissa Essaibi George is one of those neighbors. She met me recently in front of the building where her mother worked a variety of jobs, including telephone operator, for 32 years. "As did lots of neighborhood folks," Essaibi George says. "This was a local employer to our neighborhood."
Her mother lost her job when the Globe moved out earlier this summer.
A mile away, at the Sugar Bowl, a coffee shop on Dorchester Avenue, another neighbor is watching anxiously.
Don Walsh, who's 70, has seen a lot of change in Savin Hill, where he grew up. The Irish Catholic neighborhood was centered around its parish. Then came busing, the exodus of many of his neighbors, and later, renaissance and surging home prices.
"Right around my house, I've got a Boston cop, a lineman for the phone company, a janitor in Boston public schools, a labor official, a guy who runs the New England Council, a doctor, a couple of lawyers," Walsh says.
As chairman of the citizen task force that developed the city's master plan for the area less than a decade ago, Walsh sees the Globe's departure as an opportunity. "We could really do something special, and it's right at the T, which is not only two branches of the Red Line, but also a commuter rail stop, and an on-and-off of 93," he says, "so it's probably one of the best planning and development opportunities in the city of Boston."
The 2011 master plan calls for mixed-use development, with buildings of increasing height as they get nearer to JFK/UMass station.
The Globe site is a key element in the plan to redevelop all of Morrissey Boulevard and Columbia Point, an area as big a piece of Boston as the Back Bay or the Seaport District in South Boston. Next door is Savin Hill, with some of the most elegant Victorian homes in Boston.
Nordblom is the third buyer in two years to make a move to buy the property; two of them pulled out before closing.
City Councillor Frank Baker, who lives in Savin Hill, hopes the buyers will add in the parks the master plan calls for. "I'm not looking for just residential and restaurants or commercial. We need to make sure the green space is talked about," he says.
The ongoing development around Morrissey Boulevard is part of a wave of growth in Dorchester. The roadway acts as a barrier between Savin Hill and Dorchester Bay, but under a separate plan, the state's Department of Conservation and Recreation is re-ordering the boulevard piecemeal (budget to budget) in an effort to make it friendlier to pedestrians and bicyclists: Morrissey will lose one car lane in each direction to make way for bike paths. The idea is to turn Morrissey from the throughway it is now to "a true urban boulevard" for Dorchester over the next 10 years.
This makes Eileen Boyle, of the Columbia-Savin Hill Civic Association, optimistic because the waterfront would become more accessible. "We'll feel like they can go down there and walk and continue to walk all the way in town," she says.
The master plan calls for a grid of new streets that would wind through the Globe property and other Morrissey sites to connect them to Savin Hill.
That's something Kenneth Osherow wants.
The owner of McKenna's, a popular neighborhood coffee shop, and a Savin Hill resident, Osherow says that with all the one-way streets, the no-left-turns and the daily traffic, a trip to the beach in nearby South Boston can turn into an expedition. He calls the Globe site a fantastic property.
"We're talking on the coast at the connection between Dorchester, South Boston, downtown, three train stops away from South Station," Osherow says. "It is prime, prime, prime property. So it better be good."
McKenna's is as busy as ever. At the favorite stop for Mayor Marty Walsh, police officers, construction workers, and local business owners, most people say they haven't given the Globe much thought. Others, like flight crew members Kevin Noiles and Zachary Selzer, oppose any development that would bring more traffic.
"I live on Dorchester Ave.," says Noiles. "I'm actually going to get rid of my car because of the traffic. I'm going to start using the T because I just can't deal with it anymore."
"It's going to be like LA or New York City, in which it takes half an hour to even drive four or five blocks," Selzer interjects.
The mayor lived in the Savin Hill neighborhood for most of his life before moving recently to Lower Mills. His office released a statement saying he looks forward to the Globe site being "utilized in a way that fits well with the surrounding neighborhood."
Back at the Sugar Bowl, Boyle and Don Walsh say they would like to see developers follow a comprehensive plan so that neighborhoods can feel connected to the harbor, unlike what happened in the Seaport District.
"That was done parcel by parcel," Boyle says. "There's no green space." Adds Walsh: "That's not a neighborhood; it's just a series of independent boxes stuck together."
Councillor Essaibi George, who grew up nearby, served on the task force that created the master plan. She'd like to see housing for families as part of the mix of development.
"There is a lot of excitement about what the future holds for this area ... but there is also a lot of anxiety about what this change could mean," she says.
This article was published on Monday, Aug. 7 on the website of WBUR 90.9 FM [3], Boston's NPR News Station. The Reporter and WBUR have formed a partnership in which the two news organizations will share resources to collaborate on stories. WBUR's Fred Thys [4] has been working from the Reporter's newsroom on Dorchester's Columbia Point this summer.