By Jennifer Smith, News Editor
September 19, 2018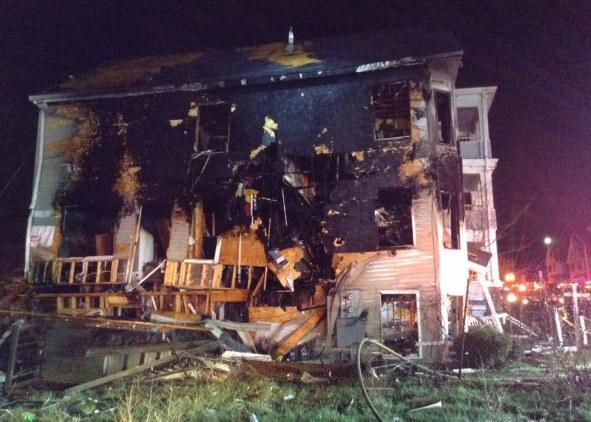 With recovery efforts still ongoing after gas explosions rocked the Merrimack Valley last Thursday in Andover, North Andover, and Lawrence, forcing thousands to evacuate, Boston politicians are looking to get an updated read on the city's gas infrastructure.
Amid a National Grid lockout of union workers, worry around potential safety risks of leaking gas pipes, and an ongoing National Grid lawsuit filed against the city for a 2016 ordinance that would regulate gas company operations in Boston, the topic is at the forefront of elected officials' minds.
City Councillors Matt O'Malley, Ed Flynn, and Ayanna Pressley will call for a hearing at this week's council meeting "to examine the safety of the city of Boston's gas infrastructure, the prevention of dangerous gas leaks, and preparedness for emergency response."
O'Malley's council district is very aware of potential vulnerabilities stemming from gasline distribution. Spectra Energy's West Roxbury Lateral Pipeline was constructed beneath Centre, Grove, and Washington streets in 2015. And incidents like a gas explosion [2] on a frigid April night in 2014 that destroyed a Hansborough Street home — it caused a three-alarm fire, injured twelve people, and sent the neighbors fleeing in panic — still echo in residents' minds years later.
"I would characterize my feelings as 'concerned,'" O'Malley told the Reporter on Tuesday. "I try not to be an alarmist, but it's hard to watch and listen to what's going on in Merrimack Valley and not be terrified, quite frankly."
National Grid is the predominant gas distributor in Boston. A spokesperson said in an email that "our gas system is performing normally" and the company has sent 200 local employees to assist Columbia Gas with its shutoffs.
"The current requests for mutual aid for the Columbia Gas event have been met and exceeded and we are confident that the company can help meet future requests for mutual aid, if necessary," the spokesperson wrote.
Locked out union members are not so sure.
•••
After gas workers unions employed by National Grid could not come to agreement with their employer during contract negotiations early last summer, the company locked them out of work on June 25 and began enacting what it called a "comprehensive work contingency plan."
They are now at an impasse over issues including pensions for new hires, changes to health care plans, and contracted work. The 1,200 union members left idle by the lockout saw their pay freeze, their healthcare vanish.
John Buonopane, president of the United Steel Workers (USW) Local 12012, told the Reporter that he was still baffled by the National Grid decision not to bring the workers back into the fold to assist in Lawrence and other affected areas.
"They really haven't explained why they're not using us, aside from saying they're not bringing us back unless we have a contract," he said in a phone call on Tuesday. "We didn't choose to get locked out. When our contract expired on June 24, we offered to extend, to keep working, and then we did it again. It just seems that the company's not interested."
USW Local 12012 and USW Local 12003, which represents the locked-out workers, have released statements on social media saying their members were willing and able to assist in the Valley.
"They have a lot of work to do up there, weeks, months," Buonopane said. "They're gonna need every trained person they can get. To have 1,200 people literally sitting next door locked out, I think it's irresponsible."
Their dispute extended before the explosions, he noted, with about 100 complaints filed with the state Department of Public Utilities (DPU) alleging that the new workers brought on board after the lockout were not performing jobs safely, such as handling a high pressure valve without using a pressure gauge.
National Grid's spokesperson said in a statement that the company "remains committed to negotiating for a fair agreement" with the groups, and asked them to meet more frequently to negotiate.
"We are aware of statements made by Locals 12003 and 12012-04 through the media and via social media regarding work in the Merrimack Valley," the spokesperson wrote. "The company is open to engaging the union leadership of 12003 and 12012-04 but will not be responding to inquiries by unions through such informal channels."
Workers say they reached out to National Grid's executive board to offer to help in Lawrence, North Andover, and Andover and brought it up in a meeting earlier this week.
Issues around contact negations and the lockout are of a piece with broader concerns regarding gas infrastructure, O'Malley said.
"The lockout of National Grid gas workers is very, very concerning to me," he said. "These are individuals who have worked for the gas company for many, many years, with relevant expertise, who are being sidelined right now."
•••
The councillor has been pushing for greater transparency and accountability on the part of gas companies since 2014. A series of hearings [3] led to the passage and signing of a law that would have gone into effect in summer 2017, but National Grid filed suit to prevent its implementation.
An over-pressurized gas distribution system is thought to be at fault in the Valley explosions, O'Malley noted. The National Transportation Safety Board is looking into a Dorchester-based Columbia Gas subcontractor, Feeney Brothers Utility Services, in its investigation of the explosions.
Boston's stalled ordinance with respect to gas operations is more focused on the overall health of the city's infrastructure and the creation of a system of coordinated maintenance, repair, upgrades, and replacement with the companies — including elements like notifying gas companies when a street is opened by another entity and work could be done on the pipes.
This, ordinance advocates contend, would be a better use of resources and lessen disruption to public ways caused by numerous street openings. As steady gas leaks can have detrimental effects on trees or shrubbery, the city would also have the authority to be made whole by the gas companies if such destruction occurred.
"The proposed ordinance, while well-intentioned, would have created conflicts with the comprehensive federal and state laws, rules and regulations that govern pipeline safety compliance," National Grid wrote in a statement to the Reporter. "The ordinance would have impacted our ability to complete mandatory pipeline safety inspections, replace leak prone pipe, and adhere to statutory timelines for leak repairs. It would have threatened our ability to obtain necessary repair permits, direct us to assign work that conflicts with negotiated union contracts, and could require the company to use tools and services that result in higher costs for Boston customers without improving environmental safety."
Back in December 2016, O'Malley was optimistic in announcing the 12-1 Council passage of his ordinance, which was later signed into law by Mayor Martin Walsh.
"Thanks to the hard work and commitment of a passionate group of environmental allies, Boston now has a better way to address harmful gas leaks which are in virtually every Boston neighborhood," O'Malley wrote. "It's more important than ever for the city's residents to work together to reverse the effects of climate change and protect our city, our country, and our planet for generations to come."
That has morphed into frustration for the councillor, especially in light of the Merrimack Valley issues.
"The worry stems from the fact that these things can happen instantly," he said. National Grid chose to pursue a suit, which was "maddening to me that that was their recourse, as opposed to working with us," he said. "It wasn't an overly onerous bill."
A Superior Court judge ruled in August that certain parts of the ordinance are "inconsistent" with requirements regulating natural gas distributor companies, since they would impose obligations that "are different from, or beyond, what is mandated" by state law as controlled by the Department of Public Utilities (DPU).
An element of the ordinance that is well within the city's rights would mandate that the gas company share "certain information that Boston Gas already provides to the DPU."
Mayor Walsh's office has declined to comment on the ongoing suit. A status conference in Superior Court is planned for the afternoon of Wed., Sept. 26, at which point both parties will tell the court what they want their next steps to be.
Jennifer Smith can be reached at jennifer.smith@dotnews.com [4], or follow her on Twitter at @JennDotSmith [5]