By Elana Aurise, Reporter Staff
January 18, 2018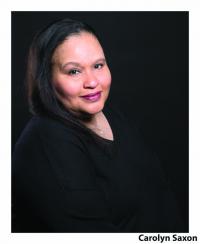 Carolyn Saxon, a Dorchester resident and multi-talented vocalist and actor, is performing in SpeakEasy Stage Company's New England premiere production of "Shakespeare In Love," running until Feb. 10 in the Virginia Wimberly Theatre in the Stanford Calderwood Pavilion at the Boston Center for the Arts in the South End.
Saxon, playing the role of The Nurse, was drawn to the production because it's a love letter to William Shakespeare.
"It's about how genius is recognized, nurtured and realized," she told the Reporter. "When I saw it being produced, I was so excited as I absolutely love the film and thought it would translate to stage in a natural, organic and almost inevitable way."
"Shakespeare in Love" is Saxon's fifth production with SpeakEasy Stage.
Saxon began her singing career when she was seven years old. She knew she wanted to perform but didn't know if it would develop into anything more than a hobby. She decided to give her dream career a chance when she turned 18.
"My very first stage performance was a school production of "Godspell," which was about a million years ago. My first Boston stage performance was in the Broadway National touring company of "Bring in Da Noise, Bring in Da Funk," which played at the Wang," said Saxon. "We were out on the road for almost a year with [famed director and choreographer] Savion Glover recreating the role of Da Beat. It was unlike any music I'd ever done before and since."
From there, Saxon performed in numerous of Broadway and off-Broadway shows and appeared in a number of Woody Allen films. She also appears regularly with The Boston Pops Gospel Choir, Sharing a New Song, and the New England Conservatory Millennium Choir.
Saxon's next project will be a short singing tour beginning in Charleston, SC. She'll travel through the Sea Islands of Georgia and the Gullah-Geechee corridor and move on to the Houma Indian Nation in Louisiana and conclude in New Orleans.
"When I return from the tour, I begin rehearsals for "The Wiz" at Lyric Stage. I will be playing the roles of Aunt Em and Glinda and I'm over-the-moon excited about it," said Saxon.
Ticket prices for "Shakespeare in Love" start at $25, with discounts for students, seniors, and persons age 25 and under. For tickets or more information, the public is invited to call the box office at 617-933-8600 or visit SpeakEasyStage.com.