By Jennifer Smith, News Editor
May 10, 2018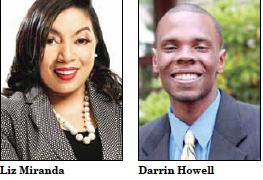 The race that is shaping up for the House seat being vacated by state Rep. Evandro Carvalho features familiar names along with neighborhood activists who are seeking to represent the parts of Dorchester and Roxbury in the Fifth Suffolk District.
According to Boston Elections and the Secretary of the Commonwealth's office, five candidates have submitted enough signatures to make the ballot: Democrats Darrin D'Wayne Howell, Brad Howze, Roy Owens [2], and Elizabeth "Liz" Miranda, and unenrolled candidate Althea Garrison [3], who is identifying herself as an "independent progressive."
Owens and Garrison are frequent names on Boston ballots; Owens most recently sought the District 7 seat on the Boston City Council, and Garrison held the Fifth Suffolk post for one term in the 1990s. She has run for the seat in each election since 2012, and has been a candidate for other posts over the years.
But the electorally fresh activists Howell and Miranda are seen by many, even at this early stage, as the leading candidates.
Miranda [4], 37, is a Cape Verdean American native of Roxbury with an extensive career of community building under her belt. She grew up in the Dudley Street Triangle area and her work as a teenager in youth programs like the Orchard Gardens Teen Center sparked her dedication to youth development work. After graduating from Wellesley College, she returned to Roxbury and to continue her work with the young.
Howell [5], 36, of Dorchester, is a lifelong resident of the Roxbury/Dorchester area. He is a former constituent services staffer for then-City Councillor Chuck Turner and political organizer at the 1199SEIU healthcare workers union. An advocate for changes in CORI reform, Howell said he remains a resource for young people trying to escape paths to violence in his home neighborhood.
Miranda, now the executive director of the Hawthorne Youth and Community Center, is making her first run for office. In an interview with the Reporter, she said she plans to draw on her community roots to bring new neighborhood voices to the State House.
"I'm a bridge builder," she said. "I have a long history of bringing state and city people together, different races together, bringing partnerships with educational institutions and non-profits, and what I think needs to happen is a return to creating an allied community organization that brings together the neighborhood associations that represent the diverse neighborhoods."
Existing neighborhood organizations have their own issue priorities and leadership, she said, "but how often do they come together to say 'this is our plan for our collective future?'"
The Fifth District skews much younger than the rest of the state, Miranda notes, highlighting her focus on education and youth job programming. She made the news recently with an online fundraiser that raised about $42,000 to buy hundreds of tickets for students to see the movie "Black Panther."
Both Miranda and Howell have had experiences with community violence. Miranda has lost friends and family to incarceration, and her brother to gun violence in Boston. "When it comes to violence, I think our approach has not been good enough, and I think from my family, you don't need to wait until it happens on your doorstep for you to care that a young person has lost their life."
She joined the Louis D. Brown Peace Institute and Carvalho to push for a victim's compensation and burial fund long sought by the Institute, as part of the sweeping criminal justice bill recently just passed by the Legislature.
Howell has been a strident voice on criminal justice reform after seeing the impact of criminal records on job prospects firsthand when he was arrested and sent to jail at 21. He has since sealed the record on the offense. When he entered the workforce, the only avenues available to him initially were industrial, janitorial, and warehouse work, although he had prior office and administrative experience.
He was out on Beacon Hill earlier this year, pushing for the criminal justice reform bill. On a local front, he is often the go-to neighborhood contact for many who remember him from his time with Turner. "It's not the message of peace, it's the messengers of peace," he's fond of saying. His priority as someone familiar with the pressures of the streets on young men is "finding some creative and innovative ways to slow it down, especially in light of summer's coming," when violence spikes in the city.
In 2010, Howell ran for the Sixth Suffolk seat, which was won by state Rep. Russell Holmes. Since then, he has worked with labor groups and community organizations like MassUnited on a socio-economic injustice platform. He moved to the Fifth Suffolk District four years ago.
"This time around I believe there's an opportunity, clearly, but I believe I can do more as an elected official than as a private citizen," he said. "I believe that some of the work I've been involved in, some of the groups I've participated with in moving a progressive agenda across Massachusetts, I can do much more if I was in the capacity of an elected official and I feel that. I'm not a politician. I understand the struggles that this community's facing, I went through a lot of the struggles that this community faces… I've been groomed, starting from constituent services up to where I'm currently at now."
Howell points to his political advocacy work with 1199SIEU where he pushed for a $15 minimum wage and paid family medical leave, and supported the millionaires tax.
Development was on Miranda's mind as she sat in the Sugar Bowl cafe, with new construction transforming some areas of the neighborhoods. Residents can feel out of the loop and out of their depth when trying to address gentrification she said. An educational effort should be made to help them "learn what an RFP (Request for Proposals) is, learn how to mobilize your stakeholders, and I think it's missing in a lot of places, particularly in the youth 18 to 24 demographic."
Howell has been taking a look at improving community benefits agreements for new developments and, like Miranda, highlighting the need to explain terminology and processes such as how affordable housing rates are calculated.
Both Miranda and Howell say they would continue to advocate for ongoing transit efforts in the district, like better Fairmount Line service. Each notes the increasing pressures on housing stocks that are forcing longtime residents to move out of their home neighborhoods.
The Sept 4. Democratic primary will winnow out one of these two community-centered advocates who are now getting their campaigns in gear as they march toward the fall.