By Jennifer Smith, News Editor
February 28, 2018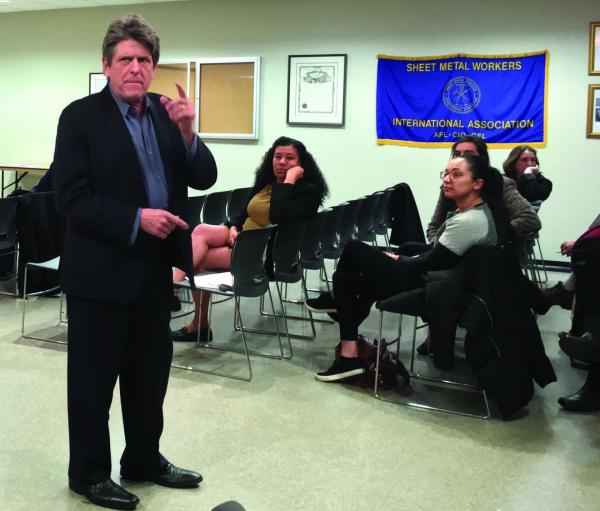 Ward caucuses offer first glimpse at Baker challengers

As ward committees gather across the neighborhood to elect delegates for June's state Democratic Convention in Worcester, the hyper-local forums have been frequented by candidates seeking statewide offices and making pitches for the support of city Democrats.
Three Democratic hopefuls are looking to lock down their party's nomination and unseat Republican Governor Charlie Baker. Newton Mayor Setti Warren, former health insurance executive and state budget chief Jay Gonzalez, and environmentalist and entrepreneur Bob Massie all were in attendance at Tuesday night's meeting of the Ward 17 Democrats in Lower Mills. Also on hand were Lt. Governor candidates Jimmy Tingle and Quentin Palfrey, touting support for progressive policies and hitting Baker's leadership.
"I got into this race because of the issue of economic inequality, which I believe is the defining issue of our time," said Warren. "Me and Charlie Baker have a very clear difference in how to deal with economic inequality here in our Commonwealth. I believe we need to ask people who are doing really well in this economy, particularly folks who are making over $1 million a year or more, to contribute more so we can invest in things that matter in this Commonwealth. Charlie Baker does not."
Warren expressed support for the Millionaires' Tax and overhauling areas of public education funding like Chapter 70, decried the state of public transit, and said Baker is failing to dedicate enough resources to the opioid crisis.
Gonzalez, who served as the state's secretary for Administration and Finance under Gov. Deval Patrick, framed the race in a national lens.
"With Trump taking us backward, every single day, it is more important than ever that we are leading right here in Massachusetts," Gonzales told the roomful of Dorchester party activists. "But we're not leading under Governor Baker. He's a status quo, wait-and-see governor, and it's not good enough. It's not good enough to simply accept the world the way it exists and try to manage it better."
His laundry list of priorities included a living wage, paid family leave, affordable housing, debt free college, high quality affordable child care, "a transportation system that people can actually depend on to get to work on time —crazy idea," and a improved health care system.
For Massie, a longtime environmental activist, society is "upside-down" and "we need a governor who will fight back."
People are struggling to find decent housing and medical care, secure jobs, and benefit from string educational opportunities, he said.
"I think governors should be able to look into the future and identify the problems that are coming at us, and we have a lot of them," Massie said. He identified renewable energy, investing in statewide transit, and the implications of newer technologies like self-driving cars on current workforces.
In their push to rally support and challenge a popular governor, the three gubernatorial candidates and their representatives have peppered ward meetings during the nomination caucuses in recent weeks.
"I think it's great when candidates come to Dorchester," said Ward 17 chair Joyce Linehan, "especially in a statewide race where, obviously for people in this room, it's important that the urban agenda is front and center, so it's nice to have all three of the gubernatorial candidates and both of the Lt. Governor [candidates] also show up."
Several candidates are familiar faces to the local ward committees, said Linehan, who serves as a senior advisor to Mayor Martin Walsh.
"It great to hear them and all but Jay have been here before, within the last few months," she said. "So I think they realize that Dorchester is a really good place for identifying volunteers and trying to organize grassroots activists."
Winston Richie, who heads up the Ward 15 committee based in the Bodwoin-Geneva area, said he has been pleased with the amount of engagement from the caucus-goers.
At the Ward 15 caucus last Saturday, Richie said representatives from all three gubernatorial candidates spoke. US Congressman Michael Capuano — who faces a serious challenge from Boston city councillor Ayanna Pressley this fall— was there to speak to the caucus-goers in person.
"I think the candidates are interested in reaching out to the wards," Richie said. With several races on the table, he said the Ward 15 members plan to gather to discuss any possible endorsements.
Richie said former state Sen. Linda Dorcena Forry's departure seemed to usher in a wave of races — the special election to replace her; Pressley challenging Capuano; Suffolk District Attorney Dan Conley's announcement that he will not seek re-election, which drew Fifth Suffolk Rep. Evandro Carvalho into the DA race and left his seat up for grabs in the fall as well.
"The turmoil is, I suppose, both good and bad," Richie said, "because it will spark more interest, and I think when people leave it's an opportunity for new people to get involved and that's all good. The downside is the uncertainty. When you don't know who your rep or senator or DA is, there's a cost to pay there, but I think overall the positives outweigh the negatives."
It is a competitive caucus season, Linehan noted, and "the energy is definitely a little bit more pronounced. I think people are still angry, still smarting, still all that stuff from the 2016 race, so everyone's kind of recommitting to our values."
The last Dorchester ward caucus of this season will be held in Ward 14 this Saturday, March 3. Registration for the meeting starts at noon and the caucus starts promptly at 1 p.m. at the Perkins Community Center, 155 Talbot Ave., Dorchester.