By Daniel Sheehan, Reporter Staff
February 8, 2018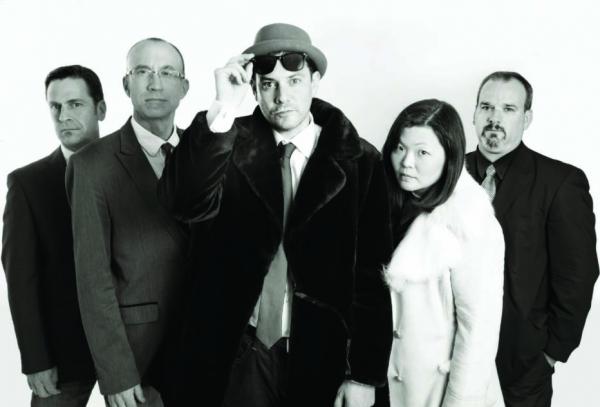 The next installment of the Dot Jazz Series comes to Ashmont next Thursday, Feb. 15 as the Eric Hofbauer Quintet takes the stage at Peabody Hall inside the Parish of All Saints church. The 7:30 p.m. concert is sponsored by Mandorla Music and Greater Ashmont Main Street.
Hofbauer's group is structured around the concept of "Prehistoric Jazz," a term he says he first heard used by composer Leonard Bernstein, who used it to describe how a certain section of Stravinsky's Rite of Spring should be played.
"That kind of turned into a concept for the band," said Hofbauer. "I loved the play on words and the idea of taking modern classical pieces and reimagining them as modern jazz that has this kind of prehistoric versus postmodern synthesis."
Hofbauer decided to assemble a group of some of his oldest friends and colleagues, choosing an instrument from each section of the orchestra in order to best condense the sounds of an entire symphony into a smaller ensemble. The quintet features Hofbauer on guitar, Todd Brunel on clarinet and bass clarinet, Jerry Sabatini on trumpet, Junko Fujiwara on cello, and Curt Newton on drums.
Together, the newly-formed group performed and recorded Hofbauer's interpretation of Rite of Spring, marking the first of what would become four volumes in their Prehistoric Jazz series. For the series, Hofbauer decided to only choose 20th century modernist classical pieces without improvisation and mold them to a more jazz-oriented format.
"My goal is to deconstruct them and re-imagine them as vehicles for improvisation, for jazz soloing, for interaction, which you know is a huge part of jazz history," Hofbauer explained. "Jazz musicians did that starting in the 1920s, they'd take Tin Pan Alley or Broadway tunes and solo on it...this is kind of the same idea."
Hofbauer's latest project is a reimagining of Duke Ellington's rare long-form composed piece Reminiscing in Tempo. The program for next week's concert will include excerpts from this piece, as well as sections from each of the quintet's Prehistoric Jazz albums and selections from Hofbauer's most recent solo album Ghost Frets.
When he is not performing, Hofbauer stays busy teaching classes at Emerson College, the Longy School of Music, and running the big band at Worcester's Clark University. Yet he says his experience with the quintet, and with Ellington's piece in particular, has been an educational course of its own.
"I've learned so much in the process," he said, "about economy of sound, how to maintain drama, suspense, and emotional quality with just a few voices...every time we play it or rehearse it, I learn more about the piece."
Tickets for Thursday's show are available online at mandorlamusic.net. The $15 dollar ticket price includes dessert and non-alcoholic beverages. Doors open at 7.