By Jennifer Smith, News Editor
June 4, 2018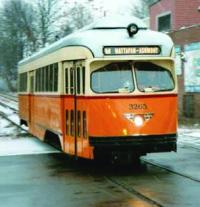 A report on the future of the Mattapan High-Speed Trolley, expected to be completed by late spring or early summer, will now likely be released later this year, MBTA officials said.
"This week we announced… the the report would not be publicly available to be discussed until late fall of 2018," MBTA Deputy General Manager Jeffrey Gonneville told the Fiscal and Management Control Board on Monday. "I think most likely we will have a completed version of the report that we will begin discussing and working on ahead of that, that we will have some internal discussions on."
The study, conducted by the private engineering firm CH2MHill, is testing technical specifications to help determine the viability of the Mattapan Line and assess possible options for the future. Initially given a completion date of winter 2017-2018, the report was pushed back to June or July earlier this month.
"We had originally committed, and I had committed, that we would have this report completed by this spring," Gonneville said, "and upon reviewing the report, myself and the team felt that there was a little bit more of a deeper dive on the infrastructure that we needed to take, and we are doing that. So to give the teams that are preparing the report for us the right amount of, one, technical information that we have to provide them, but two, giving them time to process this and really make sure it's a well-thought through report, we are moving that date of having those internal discussions probably to sometime this summer and then ultimately having a public discussion sometime this fall."
Vintage 1940s-era cars trundle the 2.6-mile route between Ashmont Station and Mattapan, over two bridges and through the Cedar Grove Cemetery. The winters are tough on the Presidents' Conference Committee (PCC) cars, T officials say, and the small fleet had issues [2] this winter with disabled trains and power problems.