By Isabel Lord, Reporter Correspondent
July 12, 2018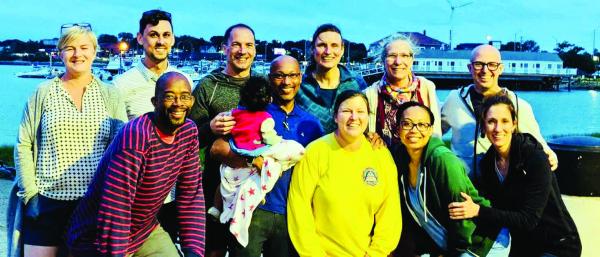 On some summer days at McConnell Park in Savin Hill, you might notice a group of parents lounging by the picnic tables as their kids — some of whom are arguably too old for the playground – play nearby. The adults might look familiar, as they've been meeting there or nearby for the past 13 years, and the spread looks delicious, so you should, definitely, say hello.
"The more the merrier!" said Liza Dufresne, one of the founding friends of this group of around 11 adults in total who met at the playground more than a decade ago as they watched and helped their youngsters play.
"I believe my first conversation with Liza occurred while we pushed our babies in the toddler swings," recalled Azure Mauche, another founding friend. What began as no more than a group of parents chatting while watching their kids has since evolved into something much bigger.
"I feel like it's my family outside my family," said Cora McAllister, 14, one of the kids in the group. And Dufresne agrees with her, "We can count on each other. When we get together, we talk about what's going on, what's really going on."
L-R, from top: Jeremy Bell, Abby Powers, Ethan Bell, Cora McAllister, Reuben Erinna, Gavin Walker, Elise Walker, Rhys McAllister, Zach Sealy, Gage Dufresne, Vincente Erinna, John Powers, Eli Sealy.
The group has grown over the years, as families have grown, but the core principles remain the same: a love of each other and of the outdoors. Listening to Dufresne talk about the group, it seems that there are few things they haven't done together. Hiking, picnicking, barbecuing, and Easter egg hunting are all on the table. They've spent Thanksgivings together, the days after Thanksgiving together; they've gone running together the days before Thanksgiving. With busy school and sports schedules, their meetups haven't always been easy to maintain, but the sense of community that their group provides isn't something they're ready to relinquish.
"I think a lot of people want community, in general," Dufresne said. "This is a good place to create it. The opportunity is there; the interest is there; we have calendars on our phones. Put something on the calendar and meet up."
The get-togethers have become a judgment free safe space where parents can talk about the challenges of life, of love, and of parenting. "Everybody has stuff going on - whether it's a separation or medical - and we talk about that," said Dufresne.
As the parents do their thing, the kids are out on the playground where they first met, even though many have outgrown the playset scene. "It's like they're reliving their childhood," said Dufresne. "I think it gives the kids some structure. A lot of them have changed schools several times, and it gives them a real sense of community."
Kate Powers, another friend, says the value of a group like this is "hard to put into words." She grew up sharing a three-decker with her grandparents in Neponset, and she is the only Dorchester native in the group. "Dorchester then was very different from now in some ways," she told the Reporter. "You can see gentrification all around the neighborhood." But, she added, "even with all the changes I can't imagine living anywhere else."
The same can be said for many of her other friends, some of whom hail from as far away as Germany, Trinidad, and Ireland, but all of whom now call Dorchester home.
"Once you live someplace that's as diverse or community-oriented as Dorchester, you go other places and it seems not as organic," said Dufresne, who grew up in Winchester. "We have so many different people in Dorchester; it's enjoyable. You feel more alive."