By Bill Forry, Editor
August 30, 2018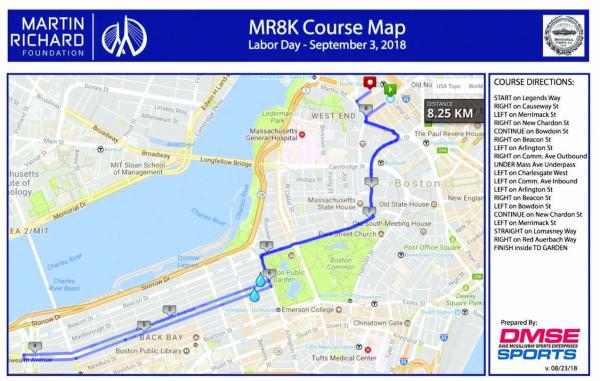 Monday morning's inaugural MR8K— a five mile run and walk through Boston's downtown and Back Bay — is novel in many ways. It's the first MR8-branded running event by Dorchester's own Martin Richard Foundation, named for our eight-year-old neighbor Martin Richard who was killed in the 2013 bombing attack on the marathon. It's the first run/walk of its kind that will end at the Boston Bruins center ice, inside the TD Garden. And the proceeds from the race (registration is $45) will go to support a McLean Hospital program that treats first responders who are in need of help for depression, suicidal thoughts, sobriety and PTSD.
Bill Richard, the co-founder of the foundation that bears his son's name, says that the mission of supporting first responders in need is perfectly aligned with the Richard Foundation's spirit.
"It's our way of saying thank you for what they did for us and what they continue to do every day," Bill Richard told the Reporter. "The idea of having our own race was appealing to us- but when we thought about how we continue to see individuals across Boston and our community respond to adversity with kindness and selflessness— that's what we espouse through our foundation and our own personal lives."
The LEADER program at McLean is open to all first responders— police, fire, EMTs, corrections officers, etc.— who need help, with no questions asked. LEADER is an acronym that stands for Law Enforcement, Active Duty, Emergency Responder.
Richard said he hopes that the five mile run and walk will not only help raise funds to help the program grow, but will raise awareness about its availability to men and women in crisis.
"We want people to hear about these programs before they go too far down the road of no return," said Richard, who invites people of all ages to participate in Monday's events. There is a kids race (ages 4-10) inside the TD Garden concourse at 10 a.m. The larger, 8k race— which will be certified— begins at 9 a.m. outside the stadium on Legends Way. The TD Garden building will open at 7 a.m. for pre-race activities and registration.
"I'd like everyone to come out and enjoy the day and to remember why we're running and who we're running for," he said. "We're inviting many first
responders to attend that day so they can be recognized and thanked. It's important for all of us to remember those who help and protect us. We try to bring people together and this is another opportunity for people to come together."
Full details on the MR8K can be found online at teammr8.org.