By Elana Aurise, Reporter Staff
January 3, 2018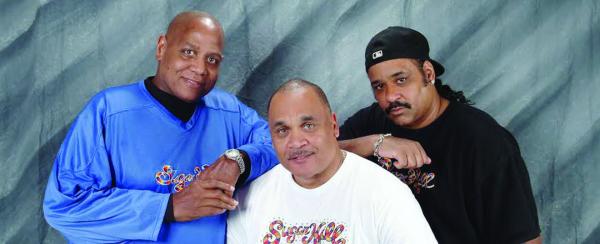 Once upon a time, Aquarius nightclub was the spot to be just across the Neponset River in Quincy. The club is long gone, but not yet forgotten by the legion of OFDers who made the trans-Neponset trek to dance, drink and trade digits.
So taken with the Aquarius nostalgia are some that twice a year Florian Hall is transformed into a reunion space. This weekend, the crew assembles for a hip-hop-infused party featuring one of the genre's undisputed pioneer acts: the Sugar Hill Gang.
Patrick McDonough started planning the reunion parties in 2016 and they've been a great success since. He got the idea for The Sugar Hill Gang to perform after watching them play at halftime of a Monday Night Football game. This weekend's Florian gig was put together in about 12 hours and took only one e-mail and a phone call to seal the deal.
"There are certain songs that resonate with the crowd," explains McDonough. "Rapper's Delight [2]was the first original rap song that whenever we threw a party, the entire room was singing the song. Everyone knows the words, or tries to know the words. It's a perfect fit."
Dorchester DJ Mike Keeley will also be spinning on Saturday. He grew up here and he knows what resonates with the crowd, who usually come from Dorchester, Quincy, Weymouth and Braintree, according to McDonough.
"We try to re-create what Aquarius was, an old-school nightclub. The event isn't meant for guests to be sitting around and ordering drinks. It's about dancing."
"What it comes down is that everyone is there to have a good time. It's really the comradery of seeing the people you haven't seen in a while," said McDonough. "As we get older, we don't get to see each other that often and this is a great excuse to get together for a good night out."
The 2018 AQ's Party with The Sugar Hill Gang is from 7-11:30 p.m. at Florian Hall, 55 Hallet St., Dorchester. Tickets are $30 and a table of 10 is $300. It's first come, first serve, and tickets and tables sell out fast. You can buy them at aquariusreunion.com.