By Maddie Kilgannon, Reporter Correspondent
February 7, 2018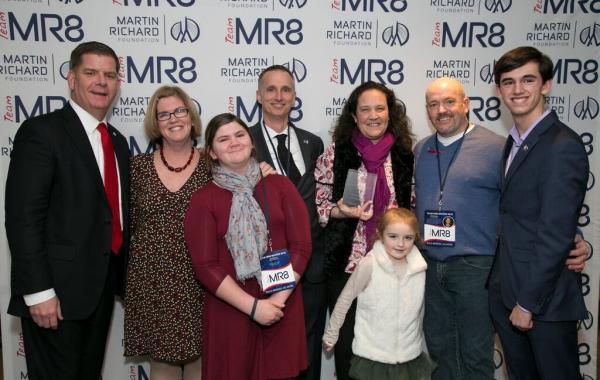 Nearly 120 people will be running with Martin Richard's name on their backs on Marathon Monday, moving forward towards the finish line and advancing the work of the Dorchester-based foundation that memorializes Martin's dream of peace and inclusion.
Team members and their supporters gathered together last Friday evening at Fenway Park for the Martin Richard Foundation [2]'s annual celebration, which included remarks from Mayor Martin Walsh.
"What I love about the marathon is waiting for those MR8 shirts," Walsh said. "We're looking for those yellow shirts, and every time we see one we get excited and we scream and yell… we stand there hour after hour. And I'll be honest with you, I stay to watch MR8 come in."
"I look forward to seeing all of you cross the finish line. I just want to thank you for running for a special little boy and an incredible family," he said.
"Remember what you're running for," Walsh said. "MR8 is changing lives."
The evening started with an emotional tribute video to 8-year-old Martin, dearly missed by so many in the audience. The video included interviews with teachers and coaches of Martin. Pat Ryan coached Martin when he was 7 and he now runs the Boston Marathon in his honor.
"There's no way you could stop [running with Martin's name on your back]," Ryan said in the video.
Martin's father, Bill Richard took a moment to look back on the impact the foundation had in 2017.
In August, the foundation broke ground on Martin's Park in the Seaport District. The park is expected to be ready for all children, ranging in physical ability, in September.
Henry Richard, Martin's older brother, told the audience that the park is making progress and thanked them for their role in making it happen.
"My sister and I are really excited for the opening of Martin's Park and are honored to help the City of Boston create an inclusive park for kids of all abilities to play in," said Henry. "Even though most of the design and construction money was raised through a capital campaign, over 1000 people like you donated money to our Foundation to make sure Martin's Park is built."
As part of the evening, the foundation presented three "Champion of Peace Awards" to the South School Elementary Civics Club from Holbrook, Raymond (Ray) Childs from Hingham and to Dorchester's own Sheila McCarthy.
Denise Richard, Martin's mom, presented the award to McCarthy, calling her an unsung hero who gives both of her hands and her entire heart to the local community center, MR8, and her parish.
"She does all of this while raising a family, caring for her mother and working three jobs," said Denise. "Her at-risk and under-served students are always on her mind and receive gently worn clothes and snacks from her on a regular basis as well as her love and patience – even when met with verbal and sometimes physical abuse."
The foundation will continue to offer grants to finance projects that promote Martin's message of peace and bridge building.
"In the past four years, we have given $632,000 to groups who share our mission and focus on community building, youth development, adaptive and inclusive sports and education around non-violence," Henry Richard said.
On Labor Day, the foundation plans to host a new event, the "MR8K," an 8.25-kilometer road race that will begin and end inside the TD Garden. 
"Looking ahead, we have a lot going on," said Bill Richard. "So much of what we do is to support young people."