By Katie Trojano, Reporter Staff
September 26, 2019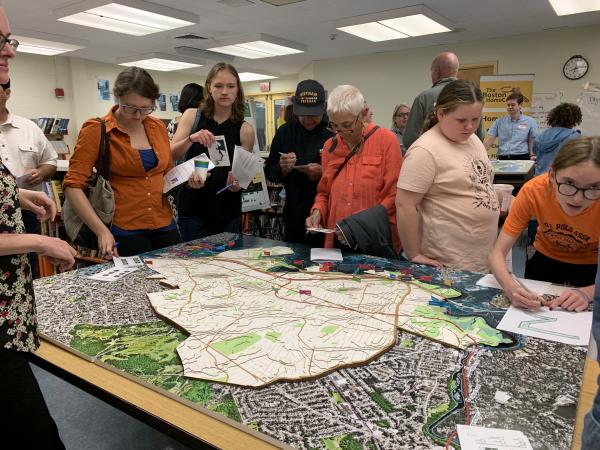 The City's initiative to prepare for the long term impacts of climate-change came to Dorchester Wednesday night for an open house at the Leahy- Holloran Community Center. About 70 people turned out to a crowded library room to listen to an introductory presentation of "Climate Ready Dorchester" [2] and participate in workshops.
"This project that we're talking about tonight is only looking at sea-level rise and coastal flooding," said Carl Spector, commissioner of the City's Environment Commission. "This is the fourth in a series of neighborhood based plans that we're doing. We're looking very specifically and concretely at how we'll protect the City and how we adapt to sea level rise."
The Climate Ready Dorchester Initiative will apply a number of resilience initiatives through community engagement, land-use planning for future flood protection systems, flood protection feasibility studies, infrastructure adaptation planning, coordination with other plans like Boston 2030, and the development of financing strategies and governance structures.
In 2017, the first neighborhood-specific plan that came out of Climate Ready Boston focused on coastal sections of East Boston and Charlestown. Last year, planning for South Boston, the North End and Downtown began.
"The Dorchester project is going to take us into the next year," Spector said. "We will be coming back to the community again in a few months from now when we have more concrete plans and after we absorb what you have to say and talk with other partners, including the state team."
Despo Thoma, Senior Designer for New York-based landscape developer SCAPE and project manager for Climate Ready Dorchester, presented a slideshow that highlighted specific issues relating to coastal flood risk in Dorchester.
"We are asking for your feedback on many different questions that we're posing through either activities or postcards," Thoma said. "Our project area is along the coastline of Dorchester. Here we see either fringe flooding, where water from the harbor rises up and affects the shoreline, or we see that the water finds low points along the shoreline, finds its way through the back of neighborhoods and affects low-lying areas."
Flooding affects infrastructure and community assets in a big way. Boston has experienced harsher snow storms, longer heat waves, and greater amounts of precipitation over the last several years. The effects of this can often be seen in the form of flooding on Morrissey Boulevard, at Tenean Beach or along the Harborwalk on Columbia Point.
Climate change, scientists agree, will make these incidents worse and more frequent.
Climate Ready Boston asserts that "By 2060, heavy precipitation events could drop more than 6 inches of water within 24 hours, which is the height of an average city curb, and 20 percent more than what we get now."
The Climate Ready Dorchester team set up four different interactive activity stations designed to engage and collect feedback from the community. The stations addressed coastal flood risk in Dorchester, the Dorchester waterfront, and how to create a resilient Dorchester beyond coastal flooding.
Pippa Brashear, a Planning Principal at SCAPE, collected information through an interactive map of Dorchester and answered residents' questions.
"The focus of our plan is to address coastal flooding," Brashear told the Reporter. "But anytime that we're planning there's an opportunity to think about what else can be improved— whether that's accessibility, transportation and other aspects that improve general quality of life for people."
People were invited to place labels in the form of small different-colored flags onto the interactive map of Dorchester and its coastline-- indicating whether they found areas to be inaccessible, welcoming, safe, fun or boring.
SCAPE, Tetra Tech, the City's Environment Commission, Boston Planning and Development Agency (BPDA) will bring more comprehensive plans for Climate Ready Dorchester back to the community in another open house before the end of 2019.