By Jennifer Smith, News Editor
June 11, 2019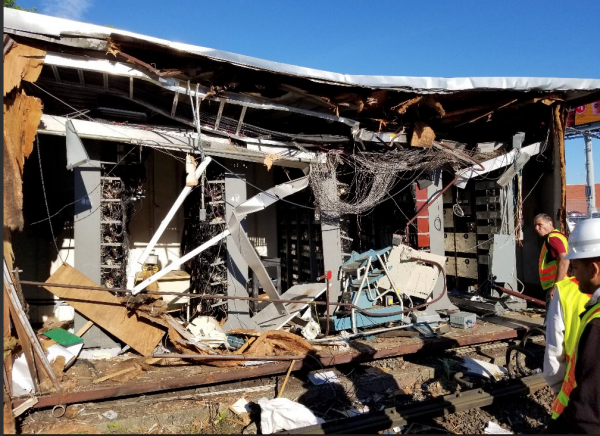 The derailment of a Braintree-bound Red Line train inside JFK-UMass station at the start of Tuesday morning's commute triggered a cascade of problems across the MBTA system that stretched into Wednesday.
It was just past 6 a.m. when a southbound train derailed, striking a signal box in the process. The accident caused "significant damage not only for the car but to track, power infrastructure, and signal infrastructure," said MBTA general manager Steve Poftak.
No serious injuries were reported, but the incident caused what the MBTA describes as "severe delays" all day long as crews try to fix the problem. Shuttle buses operated for most of the day in place of trains between North Quincy and Broadway and from Ashmont. The Boston Fire Department reported that 61 people were evacuated from the train and all "were able to walk off." Poftak noted that one person was treated at the scene with a hand injury.
Red Line service was partially restored by Tuesday evening with Braintree riders required to change trains at JFK/UMass to stay on the Red Line. The stricken train was removed from the station by crane on Tuesday night, but the damage from the accident caused problems that lingered into the next day, and, likely beyond. On Wednesday, the MBTA shut down train service between North Quincy and JFK-UMass from 11 a.m.- 1 p.m. to make repairs along the right-of-way.
The MBTA said in a statement that Red Line trains will operate at reduced speeds passing through the station and customers should plan for an additional 15 to 20 minutes of commuting time.
The Tuesday morning commute in Dorchester was brutal. Red Line and Commuter Rail passengers depended on some 68 shuttles to ferry them around the city during peak hours this morning, Poftak said.
As an automated message announcing the station's closing played on the intercom, an MBTA employee shepherded passengers inside Fields Corner station outside to underneath the bridge on Dorchester Avenue, where a crowd of roughly 30 people was waiting for the shuttle bus to Broadway station. Most of the group packed into the bus, but a small handful were forced to wait for the next shuttle.
On board, one woman called into work to explain she would be late for orientation at a new job. She estimated the situation would prolong her commute by at least an hour. After crawling through northbound traffic on Dot Ave, the shuttle allowed a select few from a crowd huddled outside the Walgreens in Savin Hill to board. Commute time between Fields Corner and JFK/UMass was exceeding 30 minutes.
At Savin Hill, dozens of rain-dampened commuters stared hopefully at each jammed shuttle pulling up on Dorchester Avenue. Two pulled away without letting anyone off or on. Another squeezed four passengers on board. With each shuttle, a handful of prospective riders slouched up the avenue toward JFK/UMass. "This happens all the time," one woman remarked mildly, while another unleashed a few profanities in the direction of the gridlocked roadway.
The ripple effect extended out into vehicular traffic, with some reporting hour-plus commutes downtown and ride share surge pricing leaping into the double digits — $123 from JFK-UMass to downtown, upwards of $140 from the southern end of Dorchester, and still higher for those making the long slog from Quincy.
A Boston Fire Department photo shows the derailed train at JFK/UMass
Commuter Rail service was boosted along several lines which do not ordinarily stop at JFK, Quincy, or Braintree, he said. Riders can use their CharlieCard or Charlie Ticket for the day rather than the normal Commuter Rail fare system.
Trains were scheduled to depart from South Station at 3 p.m., 4:30 p.m., 6 p.m., "We're calling it a South Shore Limited," Poftak said. It will stop at JFK/UMass, Quincy Center and Braintree.
As the hours dragged on, officials decried the delays.
"Derailments like today create unacceptable delays for customers and reveal a dangerous backlog of capital improvements on the MBTA," said state Sen. Nick Collins in a series of tweets. "We need significant, lasting revenues to make game-changing investments in the system to make it work for all riders."
The impacted segment of the Red Line falls entirely within Collins's district. The Fairmount Line, an internal Boston commuter rail line that runs from South Station to Readville, was moving briskly Tuesday morning, riders said. Its problem, riders note, is infrequent service.
Collins said he is pushing to leverage underutilized MBTA parcels like they have at Hudson Yards in New York, as well as support the a tax on the extremely wealthy, to generate new revenue for transportation. He also pointed at his Senate budget amendment which would mandate a study of electrifying the Fairmount and Providence lines on the commuter rail to push cleaner and more reliable transit.
"We already suffer through slow and unpredictable service," said state Rep. Dan Hunt. "While I appreciate the Baker administration's capital investment in the MBTA, today's derailment is a major public safety issue and the time is now for all hands on deck."
This was the second derailment on the Red Line in a month and came just days after a Green Line derailment injured 11 people. "This week's MBTA derailments are unacceptable," tweeted Mayor Martin Walsh around noon. "We need answers, solutions, and more funding, and we need it now. It is imperative that we have a public transportation system for Boston residents and surrounding communities that is safe and reliable."
The MBTA will seek a third-party review of derailments over the last two years, Poftak said at the press conference outside JFK/UMass. The Red Line incident is still under investigation, but Poftak said it is not believed to involve foul play and is "wholly unrelated" to the Green Line derailment near Kenmore Square on Saturday.
On top of the Green Line derailment, which was determined to be a result of operator error, it has been a rough spring for Boston trains. A May 21 derailment at Ashmont snarled the system and prompted shuttles for the morning rush. There was also a derailment on the Rockport/Newburyport Line and a Fairmount Line commuter rail train derailed in April.
"I want a fresh set of eyes on this to make sure we're not missing something," said Poftak. "We have done investigations into all these derailments, obviously, and where root causes are identified we have taken comprehensive steps to mitigate them, but I think we have an obligation to the riding public and the taxpayers of this Commonwealth to make sure we are taking every step possible to address this issue."
He noted that the state is "in the middle of significant investments" in the Red, Orange, and Green lines and the Commuter Rail. "We hear very clearly and we understand very clearly that the situation with these derailments is unacceptable and we are taking steps to address that."
Daniel Sheehan and Bill Forry contributed to this report. Follow the Reporter on Twitter at @DotNews.