By Maureen Forry-Sorrell, Reporter Staff
January 10, 2019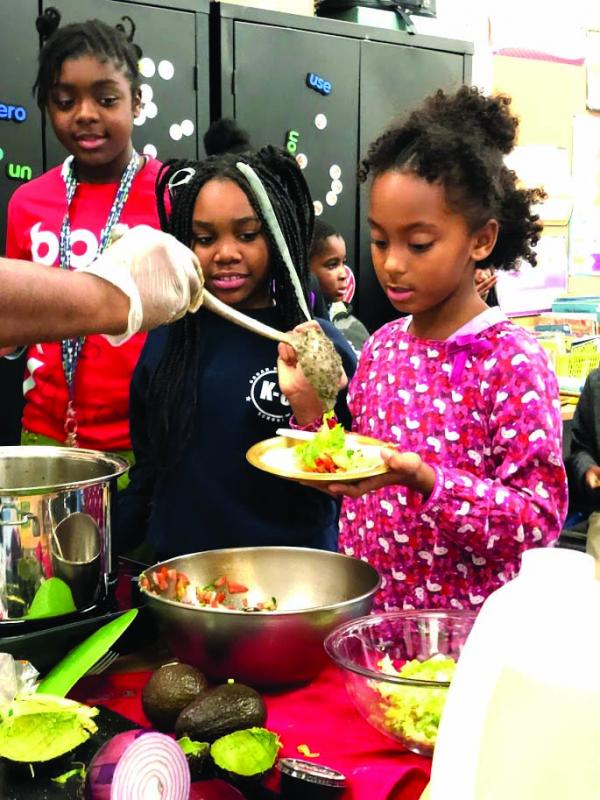 Happy New Year, Kids Menu readers! We hope 2019 will be filled for all of you with fun and community.
First up: In recognition of Dr. Martin Luther King Day on Jan. 21, the Franklin Park Zoo will offer guests free admission. Guests are invited to the Tropical Forest Pavilion to sign a mural and offer messages for hope and peace. The special event will take place between 10 a.m. and 4 p.m., and the last admission will be at 3:30 p.m.
• Starting Jan. 26 and extending until March 30, the Dorchester Winter Farmer's Market will be open in Codman Square. This market is chock full of goodies, veggies, and fun for adults and kids alike. Be sure to drop by!
• If you're one of the many local families who have been meaning to check out the Sportsmen's Tennis Club's free tennis programs, please note that Volley Against Violence and Community Tennis are on break and will resume the second week in February. However, the club is currently offering adult coed tennis clinics on Mondays and Wednesdays for $15 per session. Check out sportsmenstennis.org/adult-tennis/ for more information.
• On Fri., Jan 11, at 4 p.m, there will be a reception as the Haitian Artists Assembly of Massachusetts launches a new exhibit, "Who We Are, What we Bring," on the third floor of Boston City Hall. Hosted by the city's Office of Art and Culture, the exhibit will feature paintings of Boston's cultural landmarks, historical figures with ties to New England (Toussaint Louverture, Frederick Douglass), and social themes relevant to Boston. The reception will include signings of the art book "Migrating Colors: Haitian Art in New England." The exhibit will be in City Hall through Jan. 30.
• On Sat., Jan 12, at 11 a.m., the Lower Mills library will hold a Drag Queen Story for children ages 3 – 8. The story hour raises awareness of gender diversity, promotes self-acceptance, and builds empathy through an enjoyable literary experience.
This program will be led by local drag queens who will sing songs, read picture books, and engage in a craft activity.
On the following Monday, Martin Luther King Jr. Day, the library will offer Homework Help, courtesy of the Boston Teacher's Union. BTU teachers will be available to help K-12 students from 4 p.m. to 6 p.m.
• On Thurs., Jan. 17, at 6 p.m., the Friends of Ronan Park will host a New Year's Open House party at Home.Stead Bakery and Café, 1448 Dorchester Ave in Fields Corner.
• On Sun., Jan 13, from 1 p.m. to 3 p.m., there will be a reception at JP Licks in the South Bay Mall to celebrate local artist Anyah Lee where attendees can learn about her art and her process, enjoy complimentary coffee and pastries, and an opportunity for kids and adults to enjoy an afternoon of art and music.
• Sat., Jan 26, is Princess Day at Franklin Park Zoo, beginning at 11 a.m. Feel like you're in a fairy tale at Franklin Park Zoo! Meet a few of your favorite princesses, enjoy arts and crafts, and meet with the zookeepers to learn more about the animals who live at the zoo. Kids are encouraged to wear their favorite fairy tale-inspired outfit.
• On Sat., Feb 2, at 10:30 a.m., the Franklin Park Coalition and AMC's Outdoor's RX will b sponsoring a festival celebrating fun in the winter at the Franklin Park Golf Course. Trek outdoors, play in the snow, enjoy hot chocolate, games, and take in art projects that will be set up inside.
* * *
Snacks are essential to fuel students in the after school program before hitting the tennis courts at Sportsmen's Tennis and Enrichment Center in Dorchester. Those snacks are better tasting, healthier, and can easily be made at home because of the new monthly collaboration between Sportsmen's and Paulette Chandler, MD, MPH at the BWH Wellness Center. On December 13, 2018 Chef Siva Kumar from the Walnut Grille in Newton joined 35 student athletes to cook Bean and Avocado Tostadas with homemade Pico De Gallo.
While cooking, conversation ensued about "pulses", so called by the U.N.'s Food and Agricultural Organization because of the inclusion of beans, legumes, and seeds. Student athletes learned that the benefits of pulses include ease of using these high protein yet cost effective plant foods, the sustainability advantage of bean crops, and their importance in nutrition and health promotion throughout the world. Students enthusiastically shared which fruits and vegetables are their favorites as they talked about the nutritional importance of a range of colorful vegetables in one's diet, including in the tostadas they were about to consume.
An hour later, students scattered to the tennis courts, or started homework, while a few met their parents to go home. Everyone, though, wanted to share the recipe and their new knowledge with siblings, parents and grandparents. Everyone is excited for the upcoming January class!