By Daniel Sheehan, Arts and Features Editor
August 8, 2019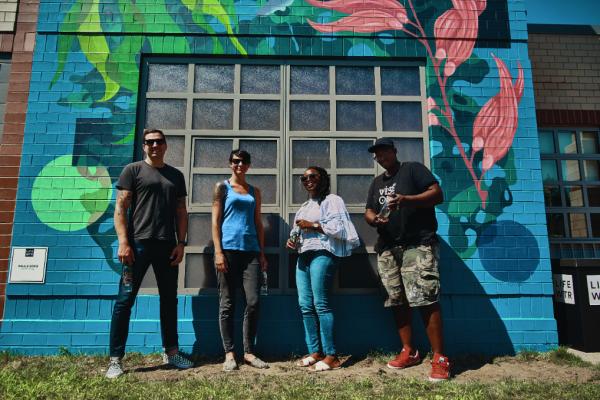 The BCYF Gallivan Community Center has undergone an artistic transformation thanks to four local artists who painted murals on the center's walls on Wed., July 24, as part of a partnership with LIFEWTR, a bottled water company whose initiative to restore arts education curriculum and sponsor local beautification projects has seen similar murals pop up across the country.
Local artists Destiny Palmer, Sophy Tuttle, Chris Piascik, and Cedric Douglas all contributed a mural of their own design and inspiration to the Mattapan community center's walls.
Palmer's piece, titled "Dreaming Isn't So Concrete," draws from her background in abstract art and education, creating a mural that "reflects unity in the community through the universal language of art."
Tuttle's work, "Whale Song," depicts whales and seaweed in a nature-focused piece intended to "help create community, initiate dialogue, and inspire change."
Douglas's mural, "Birds Eye View," uses graffiti art and "incorporates nature and local metropolitan staples to inspire the youth to discover themselves and their place in the world through art."
Piascik's offering, "Make Your Own Path," was "inspired by the Mattapan community" and is "reflective of his mission to teach others how art can positively impact their lives and help build communities."
A former resident of Lower Mills, Piascik said the mural project made him think about the universality of art.
"I was thinking about how there's sometimes a misconception that art education is just for artists or for art students. Art can lead you in different directions, and that's kind of what I hope people get from the mural."