By Daniel Sheehan, Arts and Features Editor
November 14, 2019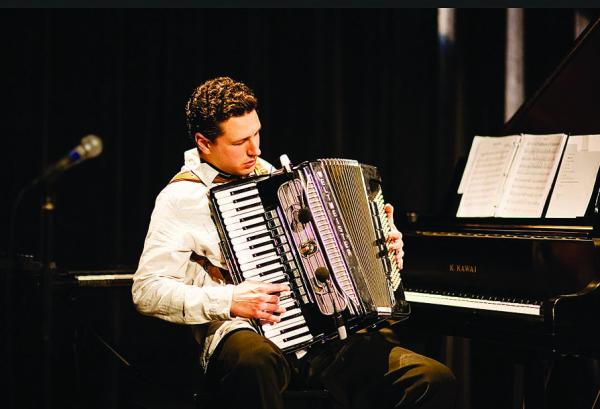 The Dot Jazz Series will be back in All Saints' Peabody Hall this Thurs. (Nov. 14) with music from the Plamen Karadonev Trio. A native of Bulgaria who plays the piano and accordion, Karadonev moved to Boston in the early 2000s and has been immersed in the city's jazz scene ever since.
Stylistically, he draws from a base of classical and traditional folk music, incorporating certain elements into more contemporary jazz tunes. Karadonev explained how that mix of influences comes out in his compositions:
"Folk music is in the foundation of much of the classical and contemporary styles that we know today," he said. "We often see examples of folk music from different parts of the world using the same modes and rhythms as contemporary music...for the past several years I have continued exploring and drawing material from my native folk music again, which I have always loved and continue to be fascinated by its rhythms and melodies."
Karadonev's trio will be rounded out by the harpist Charles Overton and the drummer Austin McMahon. The bandleader expressed excitement about playing with each of them:
"Charles is an extremely versatile and rare kind of musician not only because of the instrument he plays but also because he has taken the challenge to play bass on the harp in my trio as well, as he is capable of doubling all other parts in the music. He has great credentials for his young age such as performances with the Boston and New York symphony orchestras.
"Austin is one of the most sought-after drummers in Boston and New England. He is an excellent musician, also a jazz composer, very open minded, and eager to explore new music that we create together. I am truly grateful for the chance to have them both in my band!"
Karadonev said the audience can expect to hear a blend of different genres Thursday night. "We have prepared some of my latest compositions that meld jazz, folk, EDM, bass and drum and other contemporary styles. Besides having a harp in the band, I also play accordion in addition to piano and keys.
"We will be joined by vocalist Elena Koleva, a faculty member at Berklee College. Elena has a truly unique sound and adds another dimension to my music and to the already broad diversity in the group."
The Dot Jazz Series is presented by Mandorla Music and Greater Ashmont Main Streets. All concerts take place in Peabody Hall at All Saints Church in Ashmont. Doors open at 7 p.m. $15 admission, children under 18 are free.