By Elana Aurise, Reporter Staff
February 21, 2019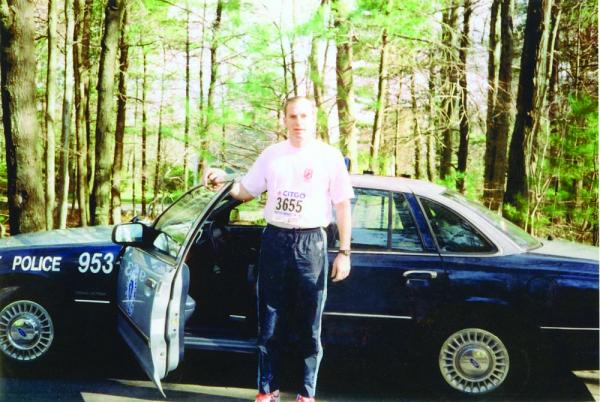 Charbo's Run, a Dorchester-based five-mile road race held in memory of fallen Massachusetts State Trooper Mark S. Charbonnier, will return one last time on Sun., March 24, after a 15-year hiatus. The race will commemorate the 25th anniversary of Charbonnier's death in the line of duty.
A native of St. Peter's parish, Charbonnier was a six-year veteran of the State Police when he was fatally gunned down during a traffic stop on Route 3 in Kingston in 1994. He was 31.
The inaugural Charbo's Run took place on March 12, 1995, and ran strong for ten years – reaching a peak of 8,000 runners in 2002. It was one of the largest road races in Massachusetts and one of the largest law enforcement road races in the country. But the planning of the event took its toll and the committee ended the annual run on the 10th anniversary of Mark's death.
"This was a very difficult decision for our family and friends, but one that needed to be made," said Mark's brother, Steve Charbonnier, a Boston Police officer. "We wanted to end the race on our terms, with class, dignity, and respect. It was the same way Mark led his life."
Over that 10-year period, the race raised over $500,000 for the Trooper Mark Charbonnier Scholarship Fund – a charity that funded many scholarships and benefited countless charitable causes.
"Charbo's Run would not have been possible without the support by the residents of Dorchester and Milton, and Florian Hall for hosting the run," said Steve Charbonnier. "The family, friends, and volunteers put a tremendous amount of time and effort into this race and the overwhelming turnout made it all worthwhile."
Staying true to its tradition, this year's race will start and end at Florian Hall. It will take place from 11 a.m. to 3 p.m. and the post-race festivities will continue from 3 to 4 p.m. It begins on Hallet Street and follows a course through Milton and Quincy, back to Dorchester to Florian Hall.
"The race started to honor Mark's life through one of his passions: running," said his brother, Steve. "It has been 15 years since the last run and we will still continue to see people wearing the tee shirts with the number '953' proudly on the back – that number, Mark's State Police cruiser number – became synonymous with Mark's ultimate sacrifice. It is a constant reminder of the dangerous job the men and women in blue do every day.
"We continue to hold Mark in our hearts and are forever grateful for the outpouring of support we have received," he said.
Registration will remain open until March 23. To sign up for the run and for further information, visit Charbosrun.com.