By Daniel Sheehan, Arts and Features Editor
October 17, 2019
The Shakespearian tragedy "Coriolanus" tells the story of a Roman general elected against his will to rule a populace he reviles. That narrative, along with the way the text looks at populism and power structures, inspired Daniel Boudreau, the founder of Praxis Stage theatre company, to adapt "Coriolanus" for the group's next play.
It will be staged at the Little House on East Cottage Street in Dorchester this week, starting on Thurs., Oct. 17.
"I think what's compelling about this play is it's about democracy, it's about power, and it's about the abuse of power and the abuse of democracy," explained Boudreau. "At Praxis, we have a vision to do plays that sort of enter into complicated social crisis points that our society's in...the company believes that we're at the end stage of capitalism and things are really falling apart in our society, and it's time for people to really rise up and understand their position in this and challenge power across class lines, race lines, and the way in which people are oppressed due to their race, their gender, and their sexuality."
Boudreau, a South End native and actor, founded Praxis on November 9, 2016 – the day after the fateful 2016 presidential election. As such, most of the company's works are framed in the context of a protest or challenge of what they perceive to be a white supremacist establishment. Like Shakespeare, Boudreau says he has conflicted feelings about democracy, which reveal themselves in his interpretation of the play.
Praxis Stage founder and director Daniel Boudreau

"I think democracy is a beautiful concept, but I'm also somebody who's getting very nervous about, you know, especially with the past presidential election, it's hard for me not to be really despondent and angry about the common people."
Praxis's version of the play is set in 2049 in a "rapidly degenerating society" that inhabits what can be interpreted as "New Rome." Co-director Audrey Seraphin spoke to the tragic tone of the work and how that translates to a dystopian setting.
"This piece is a tragedy, and so often when we look at contemporary works they try to see the good in people. Shakespeare takes it from a completely opposite perspective where the citizens are sort of this many-headed mob," she said. "It's a play that looks at class a lot. In our play it looks at race a lot. Daniel and I did a lot of intentional casting to make sure that all of our generals and protagonists are played by people of color, and our ensemble is predominantly white."
The interactions between protagonist Coriolanus and the common people of Rome, who put the general on a pedestal before eventually plotting his downfall, reminded Seraphin of the way American society views professional athletes.
"During the rehearsal process, a lot of the things with Antonio Brown and the Patriots were something that I was following, sort of looking at the repercussions of fame…the generals are thought of as the sort of characters you can collect stats on. Yet the're not really seen as real people, but this pillar and beacon of what it to be a man."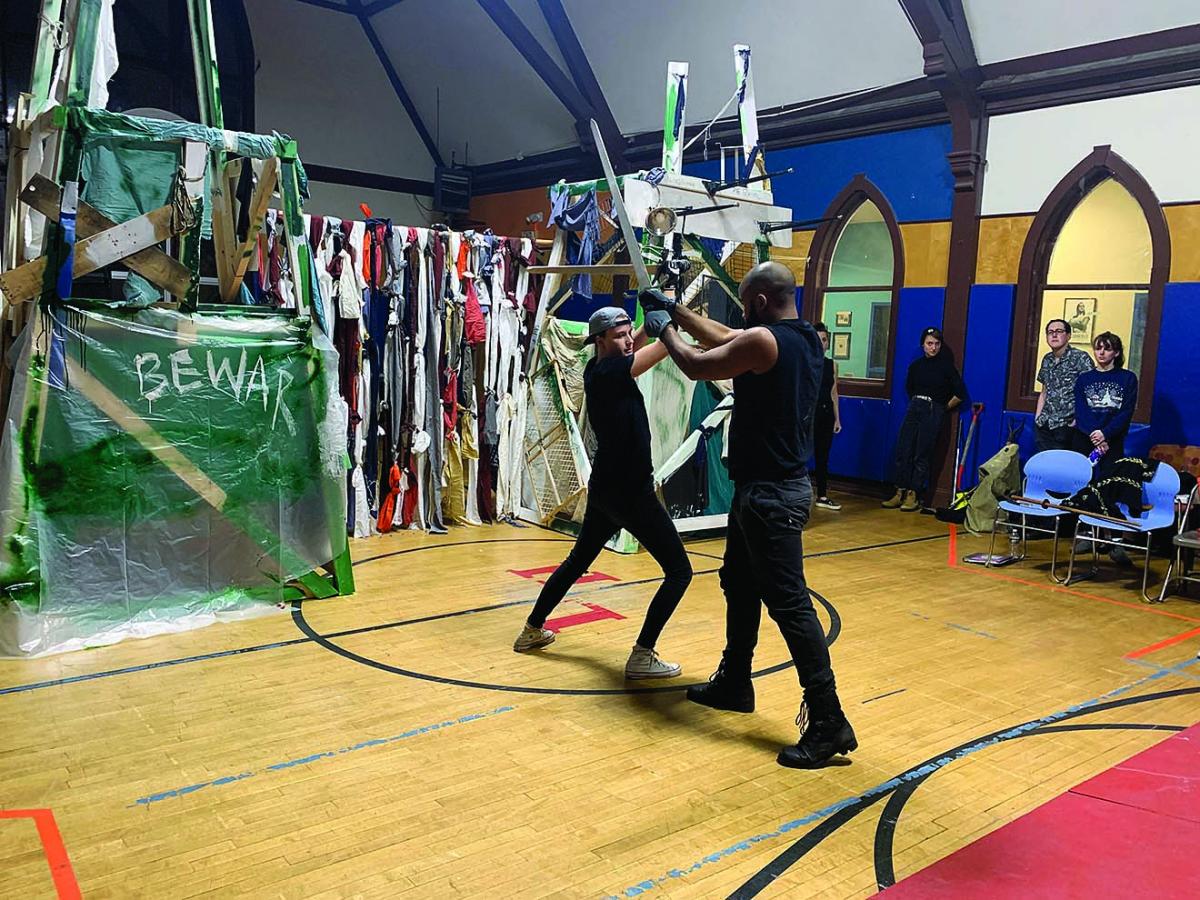 Lauren Squier, left, and Zair Silva spar in front of the play's dystopian set. Dan Sheehan photo

Zair Silva, the Dorchester native playing the title role of Coriolanus, said he compared his character to Allen Iverson, the star NBA guard whose career often flirted with controversy.
"[Iverson] had so much influence because of what he did on the basketball court," said Silva, "and people embraced him not necessarily as a person but as this brand. But then they were so quick to turn on him and talk trash about him. To me, he's misunderstood, and he's a victim of his circumstance."
Another way in which Praxis's Coriolanus deviates from tradition is its casting of Thomika Bridwell, a black woman and Roxbury native, in the role of Roman general Titus Lartius.
"It's an honor to be able to play this role, and I'm very proud of Praxis, of Daniel and Audrey for what they're doing in terms of casting all people of color, and particularly women in this role," said Bridwell.
"I've watched a lot of different versions of this play on YouTube and this character is traditionally played by a white man. So, it's amazing for me to be able to embody this character."
Bridwell expressed hope that members of the surrounding Dorchester community, particularly young people, will attend and that the play will spark conversations about race and gender roles. 
"I love that as artists we get an opportunity to do that," she said. "To initiate and facilitate some of those harder conversations, and people get to see themselves reflected in ways they may not often get the opportunity to."
Dorchester native Zair Silva will play the title role of Coriolanus

Silva noted that the location of the play in an intimate setting in Dorchester is just as important as the work's thematic content.
"I was raised here in Dorchester, in walking distance from here," he said. "I didn't really have much of an opportunity to watch shows that are nearby, that are local. So this to me, if I had had this as a kid to come watch, this would have been really inspirational for me...I kind of see myself. I hope to see kids from around the neighborhood come in to watch this because it could be really inspirational."
Praxis's production of Coriolanus will open on Thurs., Oct. 17 and run through Sun., Nov. 3. Plays will take place on Thursdays, Fridays, and Saturdays at 7p.m. and on Sundays at 4p.m. All performances will be staged at Little House at 275 East Cottage St. in Dorchester. To learn more about the company or to purchase tickets, visit praxisstage.com.

Get the Dorchester Reporter— the paper of record for Boston's largest and most diverse neighborhood—delivered to your door for just $30 per year.
That's 52 weeks of the Dorchester Reporter delivered by USPS for just $30.
Support our brand of community journalism AND get the print edition delivered to your door each week— the best deal in town!
Click here to submit your order with PayPal:
Or call 617-436-1222.