By Katie Trojano, Reporter Staff
August 13, 2020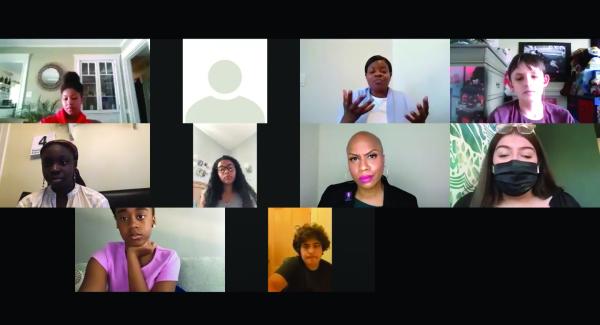 Students voiced concerns about returning to classrooms inside school buildings last week during a Zoom forum moderated by US Rep. Ayanna Pressley. The "Students Speak" forum was held just two days before Pressley herself called for Massachusetts schools to reopen in remote learning mode on Friday.
In a statement, Pressley said that schools "are not equipped with the resources, equipment, classroom facilities and staff necessary to safely reopen for in person courses." She added that the coming weeks should be used "to plan for equitable remote learning scenarios while we work to stabilize the public health crisis and get our schools the resources and support they would need to safely open." 
Many of the students who spoke on the Zoom expressed similar feelings.
Cheyenne Brown, a middle school student at St. John Paul II Catholic Academy in Lower Mills, told Pressley that although she thought in-person learning would be "better,' the possibility of returning to a classroom is still frightening. 
"I feel as though it would be scary going back to school in person because of interactions and dealing with people who don't take it as seriously as they should," she said. "I think it would be best to stay home even with all of the precautions that the school is providing." 
Many students said that family members or friends had contracted the virus, with Brown noting that she had experienced a lot of anxiety when her brother tested positive for COVID-19. 
"It made me feel sad. I cried a lot, but then I heard he was getting better and he was off quarantine. I prayed for him and it got better," she said. 
Adam Gould, a rising sophomore at Cambridge Rindge Latin School, told of losing his grandfather to the virus. "My grandpa moved in with us and we were taking care of him, but he eventually passed away. It was a shock." he said.
Chris Hopkins, a freshman at Somerville High, has struggled to adjust from the loss of structure when school learning went remote, but he said he eventually found new creative outlets. 
"It's a lot more of just straight doling through it; with school there's a lot of different things filling up your time, but now it's just 'here's another assignment," said Hopkins.  
He said that the logistics of the hybrid model, which would include a rotating schedule moving groups of students in and out of school buildings on certain days, seemed confusing. 
"I don't personally understand how hybrid classes would work if we're using the same building. Cleaning an entire school building seems like a very difficult thing," he said.
Emmanuelly Fernandes, a recent graduate of Everett High School, said that "teachers were more flexible" during online learning, but that the initial adjustment was difficult for her. 
"It's all been so unpredictable. I had to adjust and get used to doing all my school work online without having my teachers and friends helping me every day," she said. 
Jasmine Jovel, a recent graduate of Chelsea High School, noted that many of her teachers were considerate of the unique challenges their students faced. 
"A lot of teachers were very involved in understanding students' lifestyles. They were aware that a lot of students had to go to work, or were caregivers to grandparents. I was fortunate enough to have teachers who understood it was difficult and there was easy communication," she said. 
Jovel said that "a good 75 percent" of her peers have either had to stay at home and care for family members and/or held jobs as essential workers. She called a full return to campus in the fall "scary because I know people who have gotten the virus even while always wearing the mask and washing their hands. No matter how safe you're trying to be, that there's still that chance that we could get the virus. People go home, go to work, and they interact with so many other people that we're not aware of." 
Kameela Blockman Briser, of Milton and a student at Brimmer and May, suggested that "larger schools should do online learning," and said a return to classroom learning should "depend on how many faculty and kids are inside the school."
Pressley told the students that their input would inform her advocacy on school reopening policies. 
"I'm so impressed with all of you... These challenges are certainly real for all students across my district, as you all have shown today. It really is on all of us to make sure that your voices are heard and listened to," she said.