By Bill Forry, Editor
February 20, 2020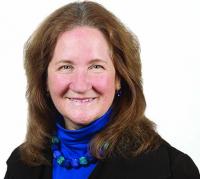 Katherine Newman will remain a UMass chancellor after she departs the Dorchester campus she has led for the last two years on an interim basis. UMass President Marty Meehan has appointed her to be System Chancellor of Academic Programs, a new position that consolidates two system vice presidencies, Meehan said last week.
"This position is designed to strategically align university teaching and research with Commonwealth job creation and workforce development aspirations," Meehan said. "We are fortunate to have the ideal person in Katherine Newman, who is equipped with the academic credentials, management expertise, and passion to expand economic opportunity, to take on this challenge."
Newman will also hold the title of Senior Vice President of Academic Affairs, Student Affairs, and Economic Development.
"I am excited to return to the Office of the President as the university pursues new opportunities and seeks to expand its impact throughout the Commonwealth and beyond,'' Newman said. "President Meehan has created an exciting and far-reaching mandate that envisions the University of Massachusetts as a major player nationally and internationally in the provision of higher education to the underserved.
"I'm pleased to lead that effort on the academic side, working with my colleague, Don Kilburn, CEO of UMassOnline, in translating that vision into reality."