By Daniel Sheehan, Reporter Staff
December 24, 2020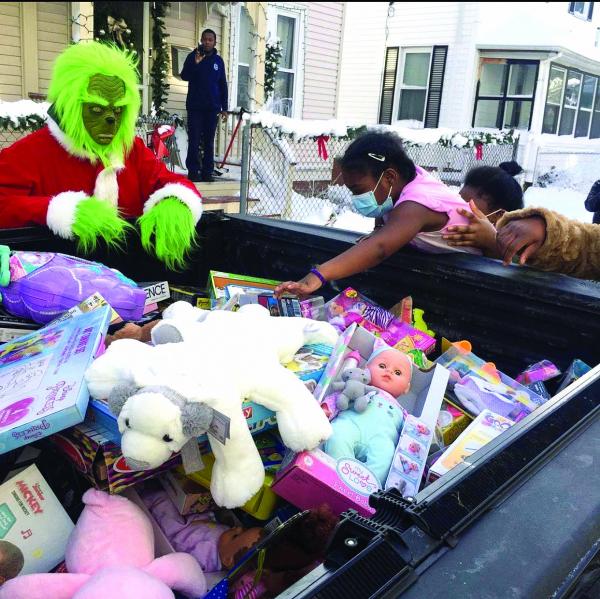 Over the weekend, a small group of volunteers from the local organization My Brother's Keeper 617 – among them Santa Claus, the Grinch, and a few reindeer –distributed toys to kids in Dorchester and Roxbury as a way to spread some holiday cheer.
Tony Galvao, president of MBK617, told the Reporter that the organization made a special effort to reach out this year in a safe format given the difficulties posed by Covid. "We were thinking about what we could do to give kids toys and keep the program going," he said. "With the virus, it's hard for them to come to us, so we decided to bring it right to them."
Volunteers donned costumes and loaded hundreds of donated toys into a pickup truck, then took to the snowy streets to distribute them to households in the neighborhood that had registered for the event. Galvao explained how they put on a skit of sorts for the kids, with the Grinch character attempting to steal the gifts.
"With that, we were just seeing what can we do to help kids with the mental aspect of all this? Just to bring them some Christmas magic, bring them hope, something to motivate them...you could see it in the kids' faces; they really enjoyed that aspect of it more than the gifts."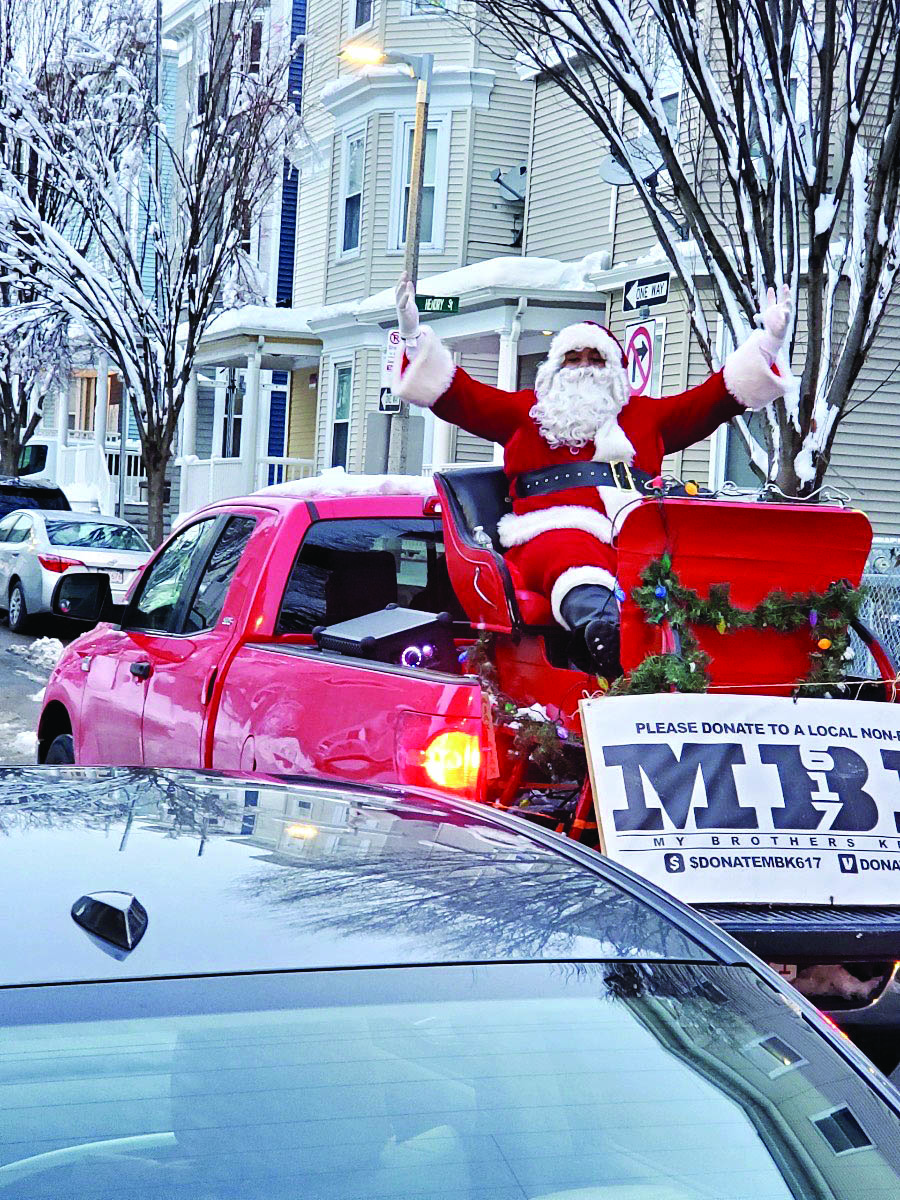 All told, Galvao estimates, they visited around 100 households and distributed about 500 gifts. Usually when they stopped at one address, neighbor kids would be drawn to the commotion and invited to take toys of their own from a pickup truck bed filled with board games, action figures, basketballs, footballs, science kits, and more. 
The small team of volunteers included organization leadership, youth members, mentees in the program, and state Rep. Liz Miranda, who collaborated with the event for her annual Merry Michael Holiday Toy Giveaway event she holds in honor of her brother. Galvao said kids as young as five were handing out presents; "we've got to teach them early the value of giving," he noted.
Beyond bringing kids some holiday happiness, Galvao said the holiday giveaway supported the organization's core goals of building trust with neighborhood kids, empowering them to reach their full potential, and keeping them from going down the wrong path.
"In order for these youth to be successful, the community has to be behind them," he explained. "To see these 11 volunteers out there, that meant a lot to the youth just seeing that people got their back."
This year's Holiday Sleigh Giveaway was made possible through funding from several groups and community contributors including City Councillor Frank Baker, Mass Housing, Deedee's Cry, MBK Boston, Frito Lay, The Mayor's Office, Jones Hill Civic Association, Pepsi, Dorchester Boys and Girls Club, Servepro Dedham, and the Louis D. Brown Institute.
To learn more about My Brother's Keeper or to make a donation, visit mbk617.org.