By Daniel Sheehan, Reporter Staff
August 6, 2020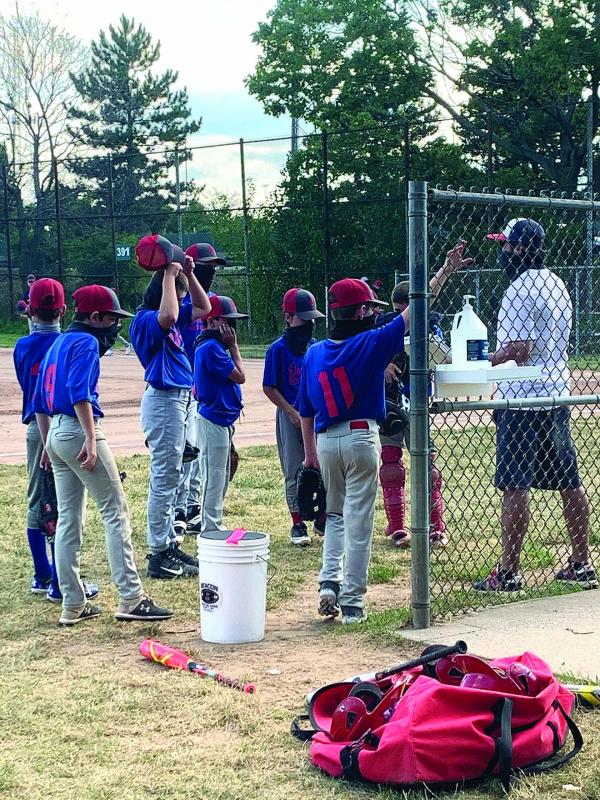 This week marked the first full month of Dorchester Baseball's modified season, an undertaking involving a series of adjustments and safety protocol maneuvers that league leadership says have been largely successful thus far. 
Charlie Maneikis, who runs the league along with co-president and coach Mike Manning, said in terms of numbers, the neighborhood's Little League is operating at about 60 percent of what it would normally look like, with games taking place most weeknights at Victory Road Park in Neponset and McConnell Park in Savin Hill. 
On Monday night at McConnell, the sounds of baseball— the ping of aluminum, the pop of the leather glove — were familiar, while the visuals of the game were decidedly different. All player and coaches wore gaiter masks around their necks, which they pulled up above their noses when sitting on the bench and huddled up or pulled down while spread out on the field of play.
Bottles of hand sanitizers were stationed at each "dugout," while a neon, yellow-vested "Covid umpire" kept a watchful eye behind the backstop, gently reminding players to mask up as they returned from the field.
While waiting to bat, kids sat spaced-out on benches and folding chairs. Caution tape cordoned off the diamond area to ensure that parents, family, and fans kept their distance and refrained from interacting with the players.
"We thought the Covid umpire approach was very innovative," said Maneikis. "It cost the league a bunch of money, but they make sure kids are doing the right things while allowing coaches to spend more time coaching baseball and less time managing safety protocols."
Maneikis noted that some of the Covid arbiters have backgrounds in the medical field and that a board representative who is a licensed medical practitioner has been in charge of the safety program. 
"Things haven't been perfect, but we're doing the best we can," he said, adding that parent feedback has been largely positive. "I had a parent tell me that since their kids started playing, they seem to be happier and more adjusted, and that what we're demanding of kids is getting them ready for school."
For his part, Manning said he was confident in how the league has gone about implementing its safety-first approach.
"In the beginning, it was definitely an adjustment for everyone, but to be completely honest, I'm proud of our kids and our coaches," he said. "I really think we're kind of setting an example for the rest of the community. They've done a great job with following the instructions, wearing the masks, taking this seriously...There are some out there who have doubted whether or not we could pull it off and do it safely.
"For myself and the rest of the board, we logged so many hours on calls on Zoom to make sure we were covering all our bases, no pun intended. And we told ourselves we weren't going to pull it off unless we could do it safely, and I'm totally convinced that we've been doing that."
The series of safety measures were adapted from best practices around the country, local guidelines, and examples at higher levels, Manning explained.
"There were some states that had started up before us, so we pulled a little bit from what was working in other states and then combined that with the local guidance and regulation coming from the state. Once Major League Baseball rolled out how they were functioning, it essentially mirrored what we were doing. We look almost like the major leagues; in fact we're doing better I would argue."
Beyond the physical health aspect, Manning said, getting kids back on the diamond has resulted in boosts in mental health after a long period of staying indoors.
"In terms of what we offer —social and emotional wellbeing—for people who have been cooped up in their houses for so long, especially kids, we felt it was important to offer something in a safe way to get kids out of the house and provide a little bit of normalcy.
"It's not a normal season but we're trying to make things as normal as possible. There's obviously gonna be some people who focus on the negative, and maybe you might see here or there a kid might forget to wear a mask or something, but overall we've received so much positive feedback from the parents."
Doug George, whose four sons have played and umped for Dorchester Baseball, said they were "absolutely thrilled" to be involved with baseball again. 
"It's so important for the kids, and the restrictions really haven't affected it at all," he said. "We're seeing our greatest attendance rate for players and games, and people excited to be out at the field.
When one of George's sons helped to oversee a recent game, he said most players understood the importance of heeding safety precautions, even if parents did not. At games on Monday evening, parents and fans watched mostly without masks, but sat far from the diamond down the third base line.
"Kids are adaptable in the sense that they seem to take it in stride, but having an umpire helps," said George, who added that from what he saw, every boy is self-policing himself. We don't have control over what fans are doing. We can only control what we can control. But a side benefit of it is the parents not getting too involved in the game and just sitting back and enjoying it."
George applauded the fact that most of the volunteers and coaches in the league, like Manning, do not have kids of their own in the league.
"It's a true volunteer position. Year in and year out they show up, and we're grateful because it's hard work."

[2]