By Katie Trojano, Reporter Staff
December 14, 2020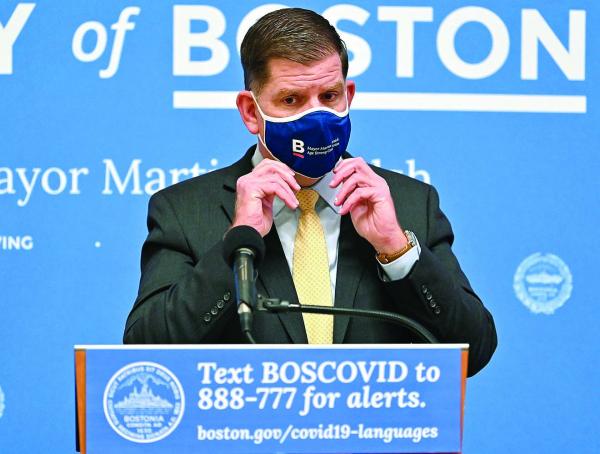 Renewed restrictions on gatherings and businesses kicked into effect in Boston this week as a post-Thanksgiving spike in coronavirus cases and hospitalizations continued to tax the state's health case system, even as new hope arrived on Monday in the form of the Pfizer vaccine.
That same day, Mayor Walsh said the city will return to a modified version of the state's Phase 2, Step 2 reopening plan, which his order put into effect on Wednesday with the likelihood that it could stay in place for at least three weeks, he said.
Indoor dining can continue, Walsh added, although a 90-minute limit for seating would be "strictly enforced," and bar seating will require special approval from city officials. Ordered to close — for at least three weeks: Gyms, indoor theatres, museums, and recreational facilities. Gatherings in private and public settings are required to have no more than 10 people for indoor settings and 25 for outdoor settings, per Walsh's order.
Office spaces may remain open at 40 percent capacity, the mayor said, but he urged employers to allow employees to work from home as much as possible.
"Our numbers obviously spiked after Thanksgiving and we've stayed at that elevated level for most of December so far. We're pretty much into our third week of high numbers," Walsh told reporters inside Faneuil Hall.
"More and more people are getting sick and having to go to the hospital, and if these trends continue, it will be a very difficult winter for our hospitals and residents. Our public health officials have been analyzing this data closely and developing a plan. We aren't going to wait until this situation gets worse. We're going to be proactive."
Every neighborhood in the city saw an increase in positive rates in the last week. Dorchester, East Boston, and Hyde Park remain the neighborhoods with the highest positivity-- all of which have rates between 10 and 12 percent. Roxbury, Roslindale and South Boston are all over 8 percent.
"Wherever you live or work in Boston, the covid virus certainly has been spreading and the activity in Boston hospitals continues to increase. We're monitoring our hospital data on a daily basis and on each of our key metrics the data is moving closer to our threshold for concern," said Walsh.
"Those include daily emergency room visits for Covid-19, the availability of surgical beds, and the total occupancy in our intensive care units. We're also seeing increased activity in our EMS and 911 calls."
For the week ending Dec. 6, an average of 5,552 Bostonians were tested for the virus; 438 people tested positive daily; and the community positivity rate climbed to 7.2 percent, up from 5.2 percent the week before. On Monday, 374 positive cases and 1 death were recorded.
The percentage of occupied adult non-surgical ICU beds at Boston hospitals was at 90 percent as of Dec. 10.
Marty Martinez, chief of Health and Human Services for the city, said that Boston hospitals have surge plans ready and would be able to expand capacity and treat everyone who needs it.
"We do have thresholds and we haven't hit them yet, but you're likely to see that by the next time we're up here, we're going to have hit two of those thresholds," he said, adding that as of Monday there were more than 300 Covid-19 positive patients in Boston hospitals.
"We haven't been at that number since June. The bed capacity is starting to be something we're concerned about."
Said Walsh: "We're going to take action now to reduce in person activity in our city, we're working to reduce the spread of the virus in our city, and to prevent our hospitals from getting overwhelmed," said Walsh. "Our goal with this three-week pause is to slow the spread now rather than have to implement more severe shutdowns later on."
He added: "After three weeks, if these metrics have moved in the right direction, we will lift these restrictions."
The mayor asked residents not to travel for the upcoming holiday or host parties of any kind. Holiday gatherings should be limited to immediate family and household members only, he said. "Today's rollback is about making individual sacrifices for the greater good and how we approach the holiday as well," he said.
On Monday morning the first shipment of vaccines began arriving at Boston hospitals, and healthcare workers were scheduled to start receiving vaccinations this week.
"That is the light at the end of the tunnel," said Walsh. "As we buckle down for some more hard work in the weeks ahead, we can take some hope knowing that better days are in sight. I ask everyone to follow the lead of our health care experts and heroes and take the vaccine when it comes here."
When asked about the possibility that indoor dining could be completely halted in restaurants, Walsh said that could likely happen if infection rates continue to climb.
"Restaurants will eventually be shut down if our numbers continue to go up and [we] have problems in our hospitals. When we get to the point where it is going to be critical for capacity, we will have to take the next step," he said.
When asked if he's concerned about Covid-19 metrics getting even higher with the potential for more holiday travel, Walsh had this to say:
"I'm very concerned about that and about holiday parties and house parties in general. I'm concerned about seeing these numbers go up every day. The public health experts said we would see increases in November and December, and that January and February could be the worst months of the entire pandemic.
"Everything they've said has come to fruition. January and February are not here yet but coming off the heels of the holiday season, we could see really bad numbers. That means more deaths, hospitalizations, more ventilators, and straining on our hospital system."
On Tuesday, Gov. Baker also urged people to take safety precautions more seriously during the December holiday season.
"It's pretty simple," he said. "The safest way to celebrate this year is with members of your own household and to postpone or cancel any travel plans and to avoid gatherings with people you don't live with. Any type of celebration beyond that has real potential, as we saw with Thanksgiving, to spread the virus and hurt the ones we love the most."
Baker made a similar plea to the public ahead of Thanksgiving, but based on his comments Tuesday and the data he presented, it appears that not enough people heeded the governor's warnings last month. He said he hopes more people will alter their traditional holiday plans because "we just saw that movie" and are now seeing the impacts it had.
On Dec. 1, four days after Thanksgiving, the state was averaging about 2,400 new COVID-19 cases each day. A week later, or about 10 days after Thanksgiving, the average number of daily new cases had nearly doubled to almost 4,800, Baker said.
Colin A. Young of State House News Service contributed to this report.