By Bill Forry, Editor
May 26, 2021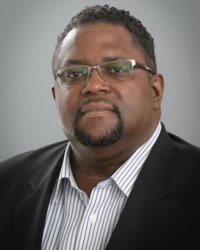 Stan McLaren, a longtime Dorchester resident and community health center leader, is the new president of Carney Hospital. He comes to the role after nearly four years as the president and CEO at Harvard Street Neighborhood Health Center on Blue Hill Avenue. He started his duties at the Dorchester Avenue campus on Monday.
McLaren has served since 2018 on the board at the Carney, which has been without a permanent president since March, when Tom Sands left to take on a new position as president of Beverly Hospital. The hospital has been led in the interim by Karen Ahearn, RN, who is Carney's chief nursing officer.
"It felt like a natural progression," McLaren told the Reporter from his new office on Tuesday. "I've been impressed with what I've seen while on the board. Carney has a lot to offer the community. Carney is all about improving and providing access to high quality care."
The news of McLaren's new role was first reported by the Boston Business Journal. [2]
McLaren, 54, is deeply rooted in Dorchester— he has lived in Codman Square for the last 20 years. He attended Boston Public Schools and UMass Boston and worked at the Boston Public Health Commission, where he founded a fatherhood program that helps men from no-to-low income families take part in their children's lives.
He also has served as the director of finance and operations for an independent school located in the Grove Hall area. And he has worked with a variety of Boston non-profits as an accounting consultant.
Since 2018, McLaren has been a high-profile leader at Harvard Street. His position there will be filled on a temporary basis by Charley Murphy, the former lawmaker who led HSNHC from 2013 to 2017.
Steward Health Care's choice of McLaren to head the Carney won plaudits from Michael Curry, the president and CEO of the Massachusetts League of Community Health Centers.
"Stan McLaren has been a tremendous champion and force for community health as the CEO of Harvard Street Neighborhood Health Center," said Curry. "His understanding of the myriad factors that impact the health and wellness of communities – from accessible health services to economic opportunity to racial equity – as well as his ability to partner with other organizations to meet those challenges, are a testament to his legacy at Harvard Street and a foreshadowing of what he will achieve as the next leader of Carney Hospital."
McLaren said on Tuesday that he sees promoting Carney as a top-tier option for neighbors in Dorchester is a critical part of his new mission.
"Carney has really stepped up its game. They've recently added the Lower Mills Surgery Center with new state of the art operating rooms. Those kinds of additions are things that the community needs to know about. I could see that from my seat on the board and it makes sense to take this on. It's a demanding role, but because I'm aligned with the mission, it just makes sense. We know who we are serving and the people we serve is why we come to work each day."
McLaren said that he remains committed to helping HSNHC build out a new facility near its current location on Blue Hill Avenue. He said he is particularly proud that the health center excelled over the last year in its response to Covid-19.
"Harvard Street's footprint is small but we punched above our weight class with tracing, testing, and now with vaccines," said McLaren. "I walked out with [Harvard Street] being in the best financial position that it has been in years. It was a team effort, and the board members were awesome."
Bonnie Brathwaite, the president of the HSNHC board of directors, said that McLaren will be "an outstanding president of Carney Hospital, we wish him well, and we are excited to have Charley Murphy return to Harvard Street Neighborhood Health Center as Interim President and CEO."
"Having someone of his experience and a past leader of the health center step-in at this time, allows for a seamless leadership transition, as the Board conducts the search for a new President and CEO," said Brathwaite.
Murphy, who started in the interim role last week, says he's been pleased to find that the renovated facility he once led is "in great shape."
"Stan and his team did a fabulous job," said Murphy. "You walk in and it's bright and cheery and people have smiles on their faces. This has been a difficult year for everyone, but Harvard Street really stepped up."

[3]