By Katie Trojano, Reporter Staff
January 6, 2021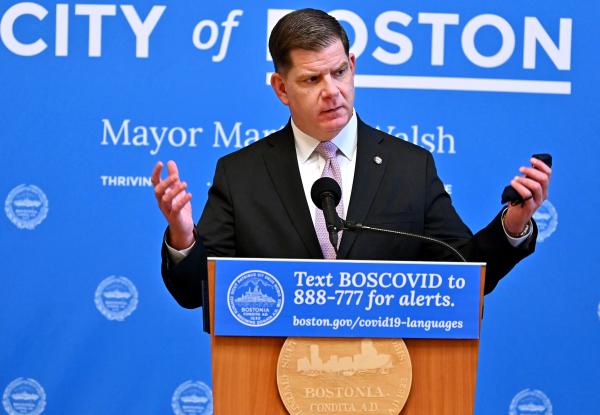 Mayor Walsh on Tuesday extended the pause on "Phase 2 step 2" reopening restrictions until at least Jan. 27, warning Bostonians that the city has now moved into "one of the most serious points in the pandemic so far."
He warned that "if the numbers don't improve, we'll have to look at more restrictions. We need people to continue to do everything to make sure you keep yourself and others safe.
"We'll beat this thing if everyone continues to buckle down," he said.
On Monday, 4,431 new cases and 2 deaths were confirmed, bringing Boston's totals since last March to 41,847, and 1,020, respectively. The average number of positive daily tests in the city, based on a 7-day moving average, is 413, up 3 percent compared to the week before. According to the same metrics, the city is testing roughly 4,561 people a day, a number that Walsh said has decreased since the previous week. 
"If you notice our individual day number is at 413, that's with fewer tests," he said. "So, we can make an assumption that if we had more tests, we'd have higher rates in the city."
The cumulative community positive rate is at 8.8 percent this week, 2.3 percent higher than last week. 
"Dorchester, Hyde Park, East Boston, and Roxbury are the neighborhoods with the highest positivity rates," said Walsh, noting that across all Boston hospitals, 93 percent of non-surge ICU beds are occupied. 
"Our case numbers certainly are concerning, and our hospital numbers are up higher than we'd like to see them. This is the highest that we've seen in the city in quite some time," he said.
City officials would like to see two consecutive weeks of declines in daily case numbers before thinking about loosening restrictions. 
When asked how long the city can sustain itself economically with the restrictions in place, Walsh said: "I don't think businesses can last a lot longer— particularly our small businesses, restaurants, retail shops, corner stores. That's why I can't stress enough the importance of wearing masks and trying to isolate ourselves from other people. That's the way we stop the spread. If we can get through these next two months without having to shut everything down again, I think that would be very beneficial to our small businesses," he said.
Current closures apply to gyms, indoor theatres, museums, and recreational facilities. Gatherings in private and public settings are required to have no more than 10 people for indoor settings and 25 for outdoor settings, per the mayor's order.
Places of worship, retail stores, and salon and other personal services are allowed to remain open at 25 percent capacity while indoor dining is limited to 25 percent capacity, with bar service prohibited. 
Office spaces may also remain open at 25 percent capacity, Walsh said, but he urged employers to allow employees to work from home as much as possible. 
"We continue to watch the data and we are limiting indoor dining to the capacity level that public health experts feel is safe right now," said Walsh, adding that residents need to limit any type of gatherings— including going out to a restaurant— to only the people they live with. 
"Our contact tracing efforts have made it clear that even though indoor dining itself isn't a high-risk factor, many people are going out to dinner with people outside of their households," said Walsh.  "Then people have a few drinks and wander around or table hop. This needs to stop. We need to keep restaurants open but only if people follow the public health guidelines." 
He added, "This is not about targeting specific sectors as a cause of the virus spread; it's an effort to reduce the overall activity happening outside of people's homes." 
City officials will re-evaluate the Covid-driven metrics and decide how to proceed with possibly lifting restrictions if numbers have "moved in the right direction," the mayor said.
"And I hope and pray that we'll be able to do that. If they get worse or even before that, we might have to put in place further restrictions." 
The mayor also urged all residents to be tested for the virus at one of the city's 30 testing sites. He suggested that people make "getting tested regularly a New Year's resolution." 
The Center for Disease Control (CDC) has released guidelines for vaccine distribution and the state has developed a plan prioritizing the highest risk residents. "The city is following the state's lead and we are working very closely with the state," said Walsh. 
Last week, Boston EMTs and residents and staff in long-term care facilities began receiving vaccinations, and beginning next Monday, under state guidelines, all first responders— including police and fire department staff—will be offered vaccinations. Walsh said there will be 1,500 doses ready that day for vaccinations for first responders in the city. 
Asked if he would mandate that first responders get the vaccine, Walsh said that although he will take it when it's available to him, it's "pretty hard to mandate" others to get vaccinated. He said that city officials are trying to build back trust in communities of color, where some have expressed wariness of the vaccine. 
"We're working right now to figure out how we're going to market it to communities of color— the African American and  Latino communities," he said. "I think we have a lot of work to do. There is a lack of trust in the healthcare system and we're going to need the healthcare system to help us build back that trust along with local activists and leaders."