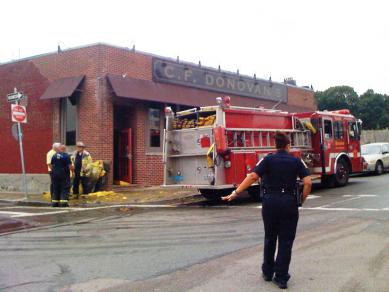 A one-alarm fire broke out at C.F. Donovan's restaurant on Savin Hill Ave. Wednesday morning, causing what Boston Fire Department spokeman Steve MacDonald was an estimated $10,000 in damages. Located in the basement level, the fire caused some smoke damage to the popular Savin Hill Ave. eatery but there was little or no damage to the dining area. There were no injuries and Donovan's was open for business as of noon Wednesday.
"The only thing we have is a little smoke damage, no significant damage," owner Arthur Donovan told The Reporter.
Officials said the fire began due to an electrical short inside a basement electric panel, causing insulation inside the panel to ignite. The Fire Department ordered a food service inspection, which is standard in restaurant fires. Donovan said the inspection found no problems and officials allowed the restaurant to reopen.
According to Fire Chief Bill Meyer, the department was notified by the building's automatic alarm system at 7:24 a.m. and was on the scene by 7:28 a.m. Between 20 and 25 firefighters responded and knocked down the fire within 20 minutes. A total of eight fire department vehicles, including two ladder trucks, three engines and rescue and rehab units were at the scene. Two fire hoses were used to put down the flames.
"We passed our inspections and we're good," Donovan said.