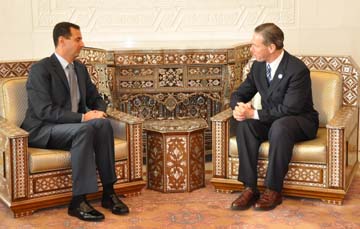 Lynch meets with Syrian President: Congressman Steve Lynch met with President Bashar al-Assad during a visit to Syria last week. Photo courtesy Congressman Lynch's officeCongressman Steve Lynch journeyed to the Middle East last week and toured the bombed-out Gaza Strip, which was left decimated after a three-week conflict with Israeli forces. Lynch also met with the president of Syria and Israeli political leaders during the three day visit.
Lynch returned with a greater sense of urgency about the humanitarian situation in Gaza, where some 1.5 million people are living with an area some 20 miles square.
"Many of these families with young children have no running water, no working sanitation system and no electricity.  Because there are tight restrictions on basic services and the right to travel, this is really a humanitarian crisis," Lynch said in a statement. "While several countries, including the U.S., have pledged support, it is important to move quickly to provide relief," added Lynch.
In Syria, Lynch and fellow Congressman Bob Ingils (R- South Carolina) met with President Bashar al-Assad, a discussion that Lynch said was "both candid and constructive."
"While we obviously have some strong differences, I am hopeful that we can work toward our mutual goals given our shared interests in the region," Lynch said.
The delegation did not meet with Gaza's ruling Hamas group, still listed as a terrorist organization by the U.S., the European Union and Israel.
The assault on Gaza in December was triggered by rocket attacks on southern Israel by Hamas militants. Human rights groups say more than 1,400 people were killed, including more than 900 civilians. Thousands of buildings and much of Gaza's infrastructure were destroyed or damaged. Israel says the death toll was lower, and most of those killed were Hamas militants.
Lynch and Inglis visited a project run by Catholic Relief Services in a heavily damaged neighborhood and a tent camp where displaced Gazans have been living since the war ended on Jan. 18. They also visited the grounds of the American International School of Gaza, a U.S.-style school the Israeli army flattened during the offensive, saying militants launched rockets from its grounds.
Lynch said the destruction in Gaza was worse than he expected. Restrictions on supplies entering the zone — which Israel says could benefit Hamas — have greatly hampered the reconstruction effort, he said.
"It is problematic having the checkpoints closed," Lynch said.
Lynch said aid could be brought into Gaza through the U.N. and other organizations, and that safeguards could be put in place to make sure resources were used properly. But the U.S. will not work with Hamas until it changed its policy toward Israel and rejected violence, he said.